Southern Miss Student Travels Distant Lands to Teach English
Wed, 07/19/2017 - 09:48am | By: Arlicia Jordan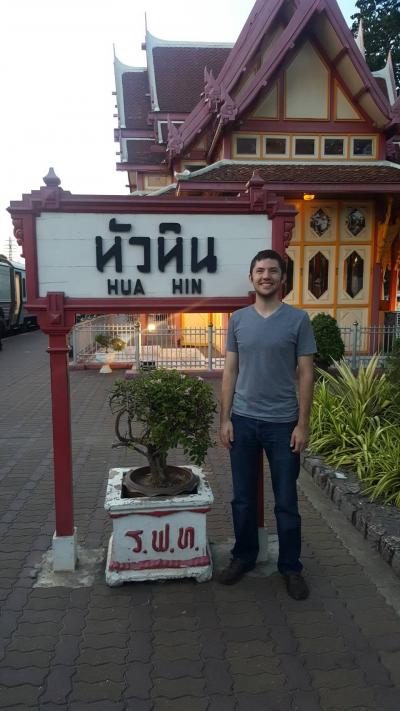 Southern Miss student Michael Coats is spending his second summer teaching English in Thailand. (Submitted photo)
"There are three things I love: traveling, teaching and getting a chance to tell people about Jesus," said University of Southern Mississippi student Michael Coats after returning from his second mission trip to Bangkok, Thailand.
Offering all three of his favorite things in one package, this summer marks the second consecutive year the senior English major has served as a certified ESL instructor with the City English Project, a nonprofit organization that connects the citizens of Thailand with native-English speakers.
Last year, Coats embarked on his first trip to Thailand, spending two months in the capital city teaching native Thai speakers the English language while also offering them the opportunity to learn more about the Bible and teachings of Jesus.
A son of missionary workers, this adventure came as nothing new to Coats thanks to the example set by his parents, whom he watched travel around the world teaching countless of people the Christian doctrine.
Captivated by the bustling city and his time spent as a teacher, Coats arrived home to Gitano, Miss., thinking of a way to return to Bangkok for summer 2017, even if it meant only staying for a few days.
"I loved it so much that after I got back, I immediately started saving up for the next year," he said. "I contacted the teachers over there and said, 'Hey, is it alright if I come back next year for about a week to teach a class or two?' It was really good."
Luckily, this summer Coats was given the opportunity to teach beginner-level English for five days to students, ages 20 and above. About one to three hours a day, Coats said he would teach students conversational English, a practice that allows the teacher to integrate basic elements of culture and worldview into the lessons.
As part of his lesson plan, Coats said he would include a game of charades, in which students would act out a given action to make the classes more comprehensible. Over time, he said that the process of creating these plans became a little easier with practice, ultimately realizing the effort his own teachers put forth in making classes engaging.
"I have been a student for almost four years and being a student is one thing, but being a teacher, you sort of have to change the way you do things," he said. "They [the students] really helped me to appreciate my teachers more because of all they have to go through to teach me, and I'm not the easiest student."
Since his time with the City English Project, Coats said he has had a chance to teach all the available English courses offered under the program, such as beginner, intermediate and advanced, as well as some Bible courses.
Wanrada Raknui, a translator for the City English Project, commended Coats for his teaching skills and praised him for having a "genuine heart of teacher." Witnessing him intermingling with the students firsthand, Raknui said that the students looked forward to his return each year because they enjoy his classes so much.
"Michael is a really nice and fun teacher. The way that he teaches make everything easy to understand," she said. "He has the most important thing of the instructor, which is a genuine heart, meaning he teaches people not only because of duty but because he really wants to help them to understand more and more."
Although he's unable to volunteer as an ESL instructor for a longer period of time, Coats remains in contact with his students and offers them help when needed. With the use of a local, popular social media app called Line, he communicates with his friends regularly and assists them with their English classes while he is away.
"I told all my students that if they have any English questions or want me to look over something, I'll answer them," he said. "So occasionally, they'll send me something and ask if a phrase is worded right or what a word means."
After his graduation next spring, Coats said he will probably consider a career as an ESL instructor and hopes to work with a Spanish-speaking population, locally or nearby – perhaps a career in Peru may be a probability. Until then, he will continue to make as many new adventures as he can and do the things he loves the most.
"I had a wonderful educational experience that allowed me to make new friends and learn more about other cultures," he said. "It's hard to put a price tag on a life-changing experience, but it is so worth it."