Tommy Thornton to Serve as 2017 Southern Miss Coca-Cola Classic Rodeo Grand Marshal
Wed, 01/04/2017 - 09:58am | By: April Jordan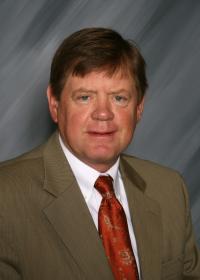 Tommy Thornton
Tommy Thornton, Executive Director of Hattiesburg Clinic, will serve as grand marshal for the 32nd Annual Southern Miss Coca-Cola Classic Rodeo, set for Feb. 17-18 at the James Lynn Cartlidge Forrest County Multi-Purpose Center.
Thornton earned a bachelor's degree in accounting from the University of Southern Mississippi and later a MBA with an emphasis in management. He has served as an Adjunct Field Instructor for the College of Health and Human Services at Southern Miss. Thornton has achieved fellow status in the American College of Medical Practice Executives and is a member of the national and state Medical Group Management Associations. He is a member of the Mississippi Society of Certified Public Accountants and serves on advisory boards for Southern Miss College of Health and Bancorp South.
Thornton was the 2014 honoree of the Art for Heart event, a local fundraiser benefiting the American Heart Association and was inducted into the Southern Miss Alumni Hall of Fame in 2014. He is a Past Chair of the Hattiesburg Area Development Partnership, the Economic Development and Chamber of Commerce partnership for Forrest, Lamar and Perry counties. His wife, Martha, is also a Southern Miss alumni. Thornton has two sons, Lance a Southern Miss graduate and Guy, a college junior at the University of Mississippi.
Tickets will be on sale beginning January 9, at Boot Country on U.S. Highway 49 and Hub City West on Pioneer Road in Hattiesburg. Tickets are $12 in advance and $15 after February 16. Starting February 17 tickets will be sold at the Forrest County Multi-Purpose Center beginning at 8 a.m. All seats chair back and are reserved.
Once again, comedian Lecile Harris, six-time professional rodeo Clown of the Year will be on hand to entertain those attending the "greatest show on dirt."
The rodeo is also sponsored by Southern Beverage, Comcast, B-95, McMullan Motors, Keith's Super Stores, Hattiesburg Clinic Sports Medicine, Forrest General Hospital, Copy Cats Printing, The Hattiesburg American, Neel Schaffer, Service Master and Southern Miss Recreational Sports.