TRIAD Service AmeriCorps Member Receives GIVE Award Honorable Mention
Mon, 03/20/2017 - 10:14am | By: Jerry Alliston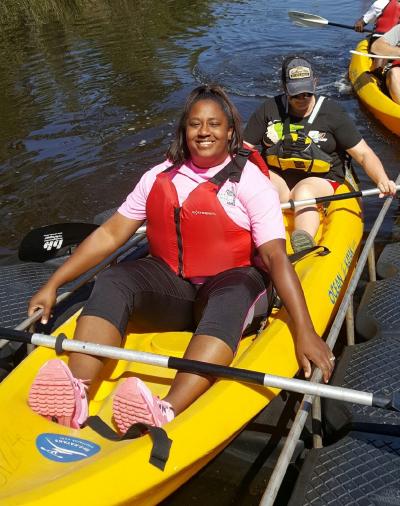 A dedicated volunteer, Jennifer Scroggins is a veteran of the U.S. Air Force and the U.S. Army. (Submitted photo)
Jennifer Scroggins is a passionate advocate for individuals with disabilities and senior citizens. She is a natural giver and has a heart for serving others.
In recognition of her exceptional volunteer service, she was recently selected to receive an Honorable Mention award as part of the 2017 Governor's Initiative for Volunteer Excellence (GIVE) Awards. Launched in 1993 by then First Lady Patricia Fordice and Gov. Kirk Fordice, the GIVE Awards recognize Mississippi citizens who inspire others. The GIVE Awards are a collaboration of Volunteer Mississippi and the Governor's Office.
Scroggins began her journey of service with the ultimate sacrifice and act of service to her country by joining the United States Air Force from 2006-2008 before serving in the United States Army until 2014. Not only is Scroggins an eight-year veteran and a champion of the community, she has also been caring for her mother who has been suffering from lung and liver diseases for more than 10 years. She helps to manage her mother's medications, appointments, and overall healthcare needs.
The military instilled in her the act of selfless service and advocating for others which created a path to working with individuals with disabilities and senior citizens. After completing her military duty in 2014, Scroggins continued her volunteer service by joining the Keesler Spouses Club, escorting and assisting World War II veterans on the honor flights visiting the World War II memorials through MS Gulf Coast Honor Flight and assisting with various programs with the Biloxi Parks and Recreations Department.
In 2015 Scroggins joined the TRIAD AmeriCorps Service family as a full time dedicated member and is currently serving as a half-time member. TRIAD, which stands for Training, Resources and Information for the Advancement of Disability, is a project of The University of Southern Mississippi Institute for Disability Studies (IDS) funded through Volunteer Mississippi.
The TRIAD AmeriCorps program focuses on providing health and wellness education to k-12 students with disabilities. Her leadership skills helped to develop effective team to not only accomplish program objectives, but to increase volunteer recruitment efforts, development of sustainable community partnerships and the creation of health and wellness supplemental activities that have actively engaged the participants.
Scroggins also works diligently in the community to inform parents, caregivers, professionals, and the community at large about available resources and programs for individuals with disabilities and senior citizens. Through these efforts, she worked closely with the City of Biloxi Senior Citizens Center to create a monthly health and wellness seminars. The activities include stretching and strengthening classes and self-advocacy training.
Her other community service activities include volunteering at the Keesler Air Force Base Thrift Store providing clothing, supplies, and furniture to those in need. She also works with the City of Long Beach after school programs that target low income students and provide a safe environment for homework and mentoring services. Scroggins has cultivated relationships with several schools in Harrison, Hancock, and Jackson counties.
The TRIAD Service AmeriCorps program at Gulf Park has grown significantly in the past two years due in large part to herrecruiting members, informing the community about the program and what it has to offer, and developing new and exciting Health Matters lesson plans and activities. Scroggins accomplished so much during her full-time service year and has already greatly contributed to the 2016-2017 service year.
For more information about TRIAD Service AmeriCorps, contact the Hattiesburg Campus Program Specialist Sylvester Crosby at sylvester.crosbyFREEMississippi or the Gulf Park Program Specialist Devin Bellman at devin.bellmanFREEMississippi.
The Institute for Disability Studies (IDS) has been located at Southern Miss for 40 years and has satellite offices on the Southern Miss Gulf Park campus in Long Beach and in Jackson. IDS provides pre-service training, community services and technical assistance programs for individuals with disabilities of all ages and their families. IDS' areas of emphasis include education and early intervention, housing, health, recreation and assistive technology. For more information about IDS, visit www.usm.edu/disability-studies.