University of Southern Mississippi President Awarded Honorary Degree from William Carey University
Fri, 04/28/2017 - 09:22am | By: Jim Coll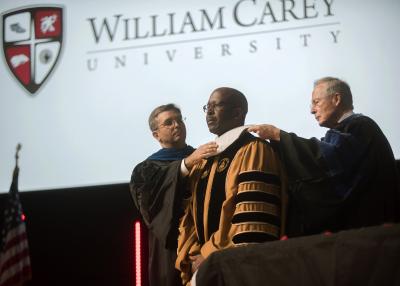 Southern Miss President Rodney D. Bennett received an honorary degree from William Carey University in ceremonies held earlier this week. Pictured with Bennett are: Dr. Scott Hummel, executive vice president and provost at William Carey University (left), and Dr. Aubrey K. Lucas, president emeritus at The University of Southern Mississippi.
William Carey University has presented University of Southern Mississippi (USM) President Rodney D. Bennett with an honorary degree for his work in communities across south Mississippi, including his leadership of USM's response to a January 2017 tornado that struck William Carey.
Among other assistance, USM has provided classroom and laboratory space, as well as residential facilities for William Carey students, as that university, located just a few miles south of USM in Hattiesburg, continues its recovery.
William Carey President Dr. Tommy King presented Bennett with the honor, a doctor of humane letters, honoris causa, as conferred by the William Carey's board of trustees.
"Not only because of his opening his arms and the arms of his institution to William Carey in our time of need, but for his involvement in the community in so many ways. Dr. Rodney Bennett and his wife, Temple, have made their home in Hattiesburg and are respected and loved by the people in this community," King said.
"It's ironic that Dr. Bennett came to USM immediately after the tornado that ravished their campus in 2013," King added. "His first duties were to help clean up and rebuild. When the tornado hit William Carey early in the morning on Jan. 21, before noon that day he had come back to Hattiesburg from Atlanta, and to our campus to inspect the devastation and to offer his services in so many ways."
A related William Carey resolution not only highlighted Bennett's role in USM's recovery from a 2013 tornado, but also his leadership of USM's investments in new faculty positions and Coastal operations, as well as work to provide access to high quality education for all students.
"When we come together, transformative things are possible," Bennett said. "Thank you to President King, the William Carey board of trustees, faculty and staff and students for this honor."