USM Alumni Association Announces Staff Changes
Mon, 11/20/2017 - 10:27am | By: Nicole Ruhnke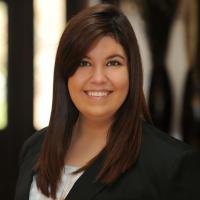 BayLee Long
The Southern Miss Alumni Association is pleased to announce the promotion of BayLee Long to the position of assistant director for programs and constituent relations. Long has served as the Association's manager of programs since February 2015 and coordinated many of the organization's internal functions, including Homecoming festivities, planned Eagle Landing tailgates and managed rental operations of the Ogletree house.
"Over the last two years, BayLee has done a tremendous job managing the rental of the Ogletree House and some of the Alumni Association's most visible programs," said Executive Director Jerry DeFatta. "I am confident her transition to this new role will provide greater opportunities for collaboration between our alumni volunteers and other University supporters across the country."
Long, a native of Athens, Tenn., earned a degree in business administration from the University of Tennessee at Chattanooga in 2013 and a master's degree in higher education/student personnel from the University of Mississippi in 2015. "I am excited for the opportunity to serve the Alumni Association and University in this role," said Long. "I look forward to building and strengthening relationships with our alumni as we focus on enhancing our chapters across the country and work toward even more effective alumni programming throughout the year."
In addition, the Association welcomes Shonice Montgomery to the team as coordinator of student and young alumni programming. In this new position, Montgomery will serve as the adviser for the Student Alumni Association while developing new programs and events designed to engage recent graduates of the University.
Montgomery, a Laurel native, earned a degree in business administration with an emphasis in entrepreneurship from The University of Southern Mississippi in 2015. She began her professional career in New Orleans, La., where she worked in management and retail sales for The New Orleans Marriott and Michael Kors. Prior to joining the Association, Montgomery was in the management training program at Enterprise.
"I am excited to be back at Southern Miss. It took me three years to realize that I needed to find my way back home," said Montgomery. "In this role, I look forward to cultivating student involvement in the Student Alumni Association through continued investment in key events. It is our ultimate goal to connect students with alumni while they are still on campus, with the purpose of displaying the value of active alumni membership post-graduation. As an Association, we are also eager to create opportunities for young alumni to become more involved, so I am excited to be a part of this area of growth."
"We are excited to welcome Shonice to the Alumni Association staff," said Jerry DeFatta, executive director of the Alumni Association. "As a young alumna herself with a tremendous passion for students, I have no doubt she will make a significant impact on the student and young alumni programming initiatives of the Association. We look forward to working with Shonice in this important role."
The mission of the Southern Miss Alumni Association is to build a feeling of pride and loyalty among the alumni of the institution while strengthening participation in alumni and University programs; to coordinate the efforts of alumni on behalf of the University as a whole; and to provide a unified voice for all alumni in the affairs of the University. To learn more about the Southern Miss Alumni Association, including special membership rates and benefits, visit SouthernMissAlumni.com.