USM Center Announces Recipient of 2017-18 Service-Learning Award
Tue, 08/22/2017 - 09:13am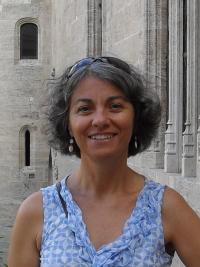 Dr. Carmen Carracelas-Juncal
The Center for Community Engagement (CCE) at The University of Southern Mississippi recently announced the 2017-18 recipient of the Conville Service-Learning Development Award, a $2,000 grant for graduates of USM's Faculty Fellow Seminar on Service-Learning to pursue new service-learning initiatives.
The 2017-18 award recipient is Dr. Carmen Carracelas-Juncal, Associate Professor in the Department of Foreign Languages. During the 2017-2018 academic year, Carracelas-Juncal will be serving as a visiting service-learning scholar in residence at Universidad de Navarra in Spain.
Carracelas-Juncal will work to help Universidad de Navarra establish the first service-learning program at their school, and further her research in the field of service-learning for both Spanish speaking communities and Spanish language learners.
Carracelas-Juncal's research will examine how service-learning participation impacts students studying abroad, particularly how enrollment in a service-learning class may increase students' target language use throughout the day and their involvement with the target culture.
"In our age of social media, study abroad programs have ceased to be true immersion programs," says Carracelas-Juncal. "Students are constantly connected to their home country, family and friends through social media, which translates into using their native language daily in detriment of the target language, and not becoming integrated in the local culture."
Carracelas-Juncal will also be studying the impact of service-learning on community partners. Her research will be set up from a sociocultural theoretical perspective and collected data will be analyzed from technical, cultural, political, and poststructuralist points of view.
"The CCE is thrilled that Universidad de Navarra has recognized Dr. Carracelas-Juncal's knowledge and passion for community engagement with this opportunity to bring service-learning and community-engaged research to other institutions and other countries," said Christy Arrazattee, CCE director. "We are proud to support her work through the Conville Development Award."
The Richard L. Conville and Mozella P. Conville Center for Community Engagement Fund for Excellence provides one $2,000 grant each year to past graduates of USM's Faculty Fellow Seminar on Service-Learning for the purpose of developing or redesigning a service-learning class, conducting or developing community-engaged or service-learning research, collaborating on an inter-collegiate service-learning initiative, advancing and promoting service-learning at USM and integration service-learning into a college or department degree plan.
The Center for Community Engagement promotes community service and service-learning on The University of Southern Mississippi campus and throughout the Hattiesburg community. To learn more about the CCE at Southern Miss, call 601.266.5074 or visit https://www.usm.edu/center-community-engagement[BROKEN LINK].