USM Director Houze Chosen for Orientation Professionals Institute
Wed, 07/26/2017 - 09:44am | By: Van Arnold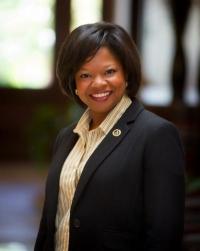 Dr. Shea Kidd Houze
Dr. Shea Kidd Houze, director of New Student and Retention Programs at The University of Southern Mississippi, has been selected to serve as one of seven national faculty members for the Orientation Professionals Institute, which is part of the National Orientation Directors Association (NODA).
The institute is an educational program designed to serve new full-time professionals (with less than 4 years of total professional experience) who are responsible for orientation programming.
Houze is the newest member of the faculty team, as the others have each served in previous roles. Her participation will involve working with the group to facilitate the curriculum, guide large and small group discussions during the institute and assist in assessing and evaluating the success of the program at its conclusion. The role is a one-year appointment with the opportunity to be considered for renewal.
"I am thrilled about the opportunity to learn from and engage with the faculty team who represent a variety of institutions of higher education across the country," said Houze. "I am also eager to meet the institute participants and share my experience with the newest professionals in our field. I believe that we are all teachers and all learners; therefore, I look forward to sharing the space with the participants and learning from them during our time together."
Faculty members have served in roles at diverse types of institutions, including all sizes, public, private, community colleges, and special interest institutions. Additionally, each faculty member has held leadership positions within NODA.
The institute curriculum uses the guiding standards in the field including developing a mission statement and goals, assessing campus realities and politics, training and supervision, as well as identifying resources and closing the loop with assessment and evaluation.
To learn more about the Orientation Professionals Institute, visit: http://www.nodaweb.org/?page=OPI