USM Foundation Launches Crowdfunding Platform for Student & Faculty Projects
Thu, 02/23/2017 - 11:15am | By: Karelia Pitts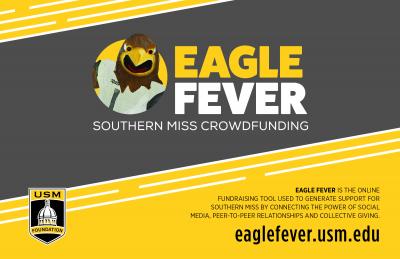 The USM Foundation has announced the launch of Eagle Fever - Southern Miss Crowdfunding to provide members of The University of Southern Mississippi community an avenue to raise funds and awareness about specific campus needs and projects.
Eagle Fever is an online fundraising tool used to generate support for Southern Miss by connecting the power of social media, peer-to-peer relationships and collective giving. This brand-new platform allows donors the opportunity to support a variety of different projects created by those within the Golden Eagle community.
With the growing popularity of online crowdfunding sites like Kickstarter and GoFundMe, Eagle Fever harnesses the potential of social media and the generosity of the Southern Miss community to bring about real change on USM's campuses.
"The impact of peer-to-peer solicitation can be attributed to the increasing use of donor networks and affiliations," said Kelly Ellis, manager of annual giving. "This form of grassroots fundraising will expand our reach exponentially."
Eagle Fever allows supporters to make gifts of any size and track the overall progress of campaigns, which typically run for 30 days. All gifts made to Eagle Fever projects are tax-deductible.
The platform is managed by the USM Foundation, and campaigns are created and run by academic departments, student groups and other members of the Southern Miss community in need of support. Starting Friday, Feb. 24, pilot campaigns will begin and applications will open for new projects.
"Eagle Fever presents many exciting new opportunities for philanthropy to enhance the Southern Miss community, one project at a time," said Ellis. "Crowdfunding allows us to cast our net much wider to raise awareness of initiatives that directly impact our students, emergent needs of the University and other Southern Miss specific ventures. Eagle Fever will build support for projects that might otherwise go without funding."
To learn more about Eagle Fever - Southern Miss Crowdfunding, visit eaglefever.usm.edu.