USM Polymer Researcher Wins Prestigious Bell Labs Prize
Mon, 12/18/2017 - 11:15am | By: Van Arnold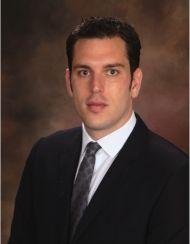 Dr. Jason Azoulay
Dr. Jason Azoulay, assistant professor in the School of Polymers and High Performance Materials at The University of Southern Mississippi, has been awarded a coveted research prize by the Nokia Bell Labs.
Azoulay shared the $50,000 second-place honor with his collaborator Dr. Tse Nga (Tina) Ng, associate professor of electrical and computer engineering at the University of California at San Diego. Their research led to the invention of new photosensitive polymer materials that can be used for health and medical monitoring through-the-skin with wearable, thin, flexible devices.
Only three prizes were awarded in the annual competition that attracted more than 330 proposals from 35 countries, which were narrowed down to approximately 20 semifinal applications shortlisted for collaboration with Bell Labs researchers over a two-month period. These refined semifinal proposals were then reviewed by the Bell Labs leadership team and the nine finalists selected, with each finalist having the chance to extend their collaboration with leading researchers at Bell Labs.
"To receive this acknowledgement from such an esteemed panel of judges and an organization that I admire and respect so much is quite an honor," said Azoulay.
The nine finalist applications covered topics ranging from new approaches to machine learning, new materials synthesis, new human sensory technologies, new distributed computing paradigms, new battery technologies and new programmable radio and antenna technologies. The final judging event took place with a group of seven luminaries in the Science, Technology, Engineer and Math (STEM) field.
Dr. Jeff Wiggins, director of the School of Polymers and High Performance Materials, notes that in Azoulay's three years as part of the USM faculty he has already received numerous multi-million dollar research contracts while building a strong research alliance with researchers across the state.
"Dr. Azoulay is a preeminent young scientist capable of leading the School and state to new levels of scholarly productivity and international recognition which are certain to have profound acknowledgement and prominence to the University," said Wiggins. "I am extremely proud of his accomplishments, and look forward to facilitate his continued growth and scholarly success. I am certain this is just the beginning, and I am excited to see where Dr. Azoulay takes us next."
Through the collaborative research Azoulay and Ng developed new photosensitive polymers that operate in the short-wavelength infrared.
"Broadly speaking, our materials fill a technological void as current semiconductor technologies that operate in this spectral region require complex fabrication and manufacturing protocols, are extremely expensive, and exhibit other characteristics that preclude their broad utility," he said. "We subsequently demonstrated a health monitoring device that offers significant advantages when compared to current technologies such as deeper blood and tissue penetration, and fast and sensitive acquisition in a low-cost, thin, and wearable form factor."
To learn more about the Nokia Bell Labs competition, visit: https://www.bell-labs.com/