USM Professor Elasri Presented Diversity Award for Excellence
Fri, 02/24/2017 - 14:48pm | By: Meghan Burk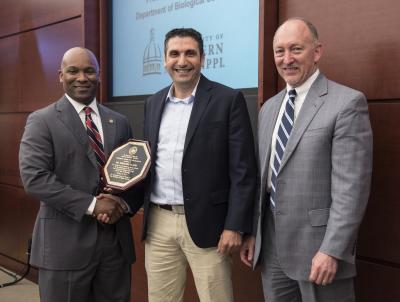 Dr. Mohamed Elasri, center, receiving his Diversity Award for Excellence.
In recognition of Black History month, Dr. Mohamed Elasri, Associate Dean for The College of Science and Technology and Professor of Microbiology, has been awarded the Diversity Award for Excellence as part of the annual Diversity celebration sponsored by the Mississippi Board of Trustees of the State Institutions of Higher Learning.
Each year during the month of February, the Board recognizes campus and community leaders for the impact they have made in advancing diversity and encouraging understanding and respect.
While working in the Science, Technology, Engineering, and Mathematics (STEM) field, Elasri believes the inclusion of more minority students will bring much needed diverse viewpoints into STEM fields and will enhance the diversity of the workforce in various areas that hire STEM graduates in Mississippi and throughout the United States.
"I am honored to have received this award, and I am very happy to represent USM this year," said Elasri. "As a university, we are very committed to diversity at all levels. I am particularly interested in the under-representation of minority in the sciences."
Elasri has developed and organized two programs that are designed to train and prepare undergraduate students in Mississippi to pursue advanced degrees in biomedical fields and health-related careers. These two programs are the Mississippi INBRE Research Scholars (MIRS) and the Mississippi INBRE Service Scholars (MISS).
He believes that these efforts expose Mississippi students to areas of interests that they may not otherwise consider and will lead to a more diverse biomedical workforce in the state.
"I work on addressing this issue by training minority students in biomedical research in my laboratory and through the Mississippi INBRE summer programs," he said. "We expend a lot of time and effort recruiting minority students and providing them with technical training and career advice to encourage them to participate in biomedical research. Their perspective is essential for the advancement of science in general and in addressing health disparities in particular."
Elasri also developed a partnership with an African-American non-profit organization, My Brother's Keeper, to enhance community-based outreach and research to target the health needs of Mississippians. This partnership was created to reach into underserved communities and inform, educate, and positively impact their quality of health.
Elasri continues to work to make a significant impact on advancing diversity at USM and all other higher education institutions in Mississippi.