USMs Graham Named Chairman of Governors Ocean Task Force
Thu, 06/15/2017 - 10:19am | By: James Skrmetta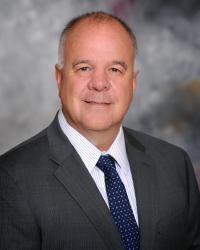 USM School of Ocean Science and Technology Director Dr. Monty Graham appointed to lead Governor's Ocean Task Force.
University of Southern Mississippi's School of Ocean Science and Technology (SOST) Director Monty Graham was recently announced as chairman of the newly formed Ocean Task Force by Gov. Phil Bryant on June 1.
"I am incredibly honored to chair the Ocean Task Force for Governor Bryant," Graham said. "This is a visionary step toward enhancing our nation's advantage in the design, development, testing and application of unmanned maritime systems."
Bryant said South Mississippi is set to grow as a major center for unmanned maritime systems as the result of an increased emphasis on oceanography and survey vessels.
"The Ocean Task Force will make sure we protect this land of ours and allow our Navy to be the most dominant military unit in the world," Bryant said.
The announcement was made at the Combat Readiness Training Center in Gulfport just before the graduation ceremony for Southern Miss' Unmanned Maritime Systems (UMS) certification class – the first of its kind in the United States.
"As we move forward in positioning South Mississippi as a center of excellence for unmanned maritime systems, the availability of a trained workforce to support the industry is essential," said Dr. Gordon Cannon, USM Vice President of Research.
Bryant congratulated 15 UMS graduates on being the first class of their kind to receive this specialized military training, which is the first tier in a 3-tier program.
"As I look around the room, I see the future," Bryant said. "The technology and personnel here is truly the next generation of warfare."
The task force, which is modeled after Task Force Ocean developed by Chief of Naval Operations Adm. John Richardson, will provide a master plan identifying attractors, partnerships, missing elements, research and training as state, federal and private resources become available. The task force will also provide recommendations on how Mississippi can create necessary training to develop a local workforce to support the unmanned maritime systems industry.
"We are clearly showing the nation how such a larger plan requires investment at the regional and state levels in order to succeed," Graham said. "Gov. Bryant recognizes investments and planning are needed so we can bolster an asymmetric advantage in research, testing, advanced development, training and education."
Graham said this venture could create an enormous economic opportunity on the Gulf Coast as elements of success already exist for universities, colleges and industries that need highly skilled, technology-based personnel.
"Nothing like this is being done anywhere else as far as maritime environment is concerned," he said. "We are blessed to have 80 miles of coastal assets that, once pulled together, could create a technological base that would be very attractive for economic development."
Graham said a large part of creating that technological base is building a strong local workforce through education and hands-on training.
"Training students on the Gulf Coast and offering them a plethora of career paths to choose from is the start," he said. "Having a local pool of highly trained and highly skilled workers available will only make expanding the unmanned maritime industry that much easier and more rapid."
Cannon believes Southern Miss is situated perfectly to train this workforce with its experience and high-level instructors.
"With its deep-rooted experience in ocean science, Southern Miss is well qualified to provide the unique training and education needed to create and support this workforce," he said.
The Ocean Task Force is now responsible with providing a master plan for attracting industry and training personnel, which is due in 120 days.
"Governor Bryant has assembled a team that will take an honest look at how we can work together to pull pieces and catalyze a vibrant industry to meet the nation's demand for ocean science and technology," Graham said. "I look forward to working with this team and pushing our maritime science into the future."