USMs Tate Named to 2018 Class of Leadership Mississippi
Wed, 12/20/2017 - 01:49pm | By: Jim Coll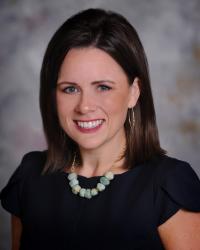 Jenny Tate
Jenny Tate, Assistant Director for University Communications and Campus Communication Officer for the Gulf Park Campus of The University of Southern Mississippi, has been selected to take part in the 2018 Class of Leadership Mississippi.
Leadership Mississippi is an annual program of the Mississippi Economic Council and is the second-oldest statewide leadership program in the country. Participants are selected by a committee of MEC's Leadership Mississippi Alumni, and they work together in a training program that combines individual study, group sessions and project experience.
"I am honored to have been chosen to participate alongside an esteemed group of individuals in the upcoming class of Leadership Mississippi. I look forward to growing as a leader, employee and Mississippian," said Tate.
A resident of Gulfport, Tate has worked for USM since August 2014, and has been a leader for both the Gulf Park campus in Long Beach and USM's Office of University Communications. She has been an integral part of a leadership team for the office whose work has been recognized as the best at the state and regional level in the field of public relations.
Among other awards, University Communications has been honored with "Best in Show" awards from both the College Public Relations Association of Mississippi (CPRAM), the Public Relations Association of Mississippi, and the Southern Public Relations Federation.
Tate has also served as president of CPRAM from 2016 to 2017, and as a board member for the Long Beach Chamber of Commerce. Her work at the University also includes teaching as a communications studies adjunct faculty member.
"Jenny Tate is a leader for USM and continues to make the University and Gulf Park Campus better as a result of her efforts," said Jim Coll, Chief Communication Officer. "I have no doubt that the program will benefit from Jenny's participation, just as much as she will benefit from participating in the program."