USM Veterans Center Unveils Plaque Honoring Maj. Gen. Rex Dettre
Mon, 02/27/2017 - 14:32pm | By: Van Arnold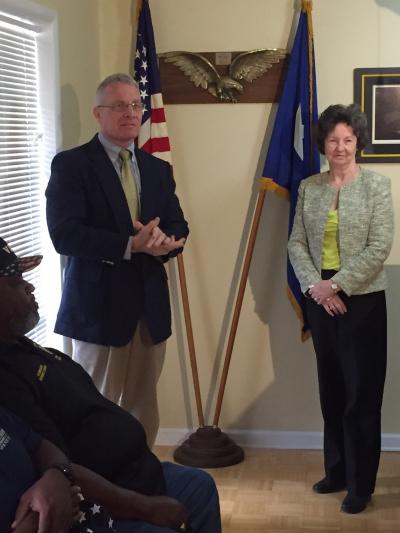 Jeff Hammond, Director of the USM Center Military Veterans, Service Members and Families, presents a plaque honoring the late Maj. Gen. Rex Dettre. Pictured with Hammond is Dettre's wife, Betty Dettre. (University Communications photo by Van Arnold)
The University of Southern Mississippi's Center for Military Veterans, Service Members and Families honored the service of Maj. Gen. Rexford H. Dettre Jr. with the unveiling of a memorial plaque during a special ceremony held Monday, Feb. 27. Center Director Jeff Hammond (Maj. Gen. U.S. Army, retired) made the presentation alongside Dettre's wife, Betty Dettre.
"Maj. Gen. Dettre was a true American hero who served his country with distinction," said Hammond. "His motto was, 'if there is a job to be done, it should be well done.' He honored that motto throughout his military career and his civilian life. Our country is fortunate to have men and women like Maj. Gen. Dettre who gave so much of themselves for our freedoms."
A California native and West Point graduate, Dettre served as a fighter pilot during World War II, the Korean War, and the Vietnam War. He twice escaped prisoner of war camps in Germany during World War II. He flew 110 combat missions during the Korean conflict and another 89 combat missions during the Vietnam War.
For his service to the nation, Dettre was awarded the Distinguished Service Medal, two Legions of Merit, Distinguished Flying Cross, Meritorious Service Medal, three Air Medals, Joint Service Commendation Medal, and two Air Force Commendation Medals.
Dettre retired from military service in 1973 and lived out the final years of his life in Columbia, Miss. He is interred in the West Point Post Cemetery. Betty Dettre remains an active member of the University's Osher Lifelong Learning Institute (OLLI).