$8.7 Million: Luckyday Foundation Commits to Largest Gift in University of Southern Mississippi History
Thu, 11/29/2018 - 04:55pm | By: Karelia Pitts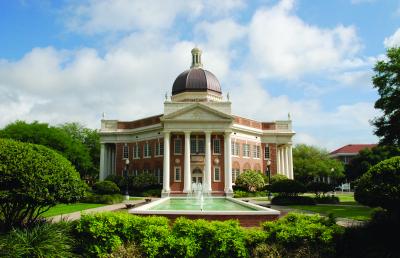 The Luckyday Foundation has provided over $35.7 million to the program to date, making it The University of Southern Mississippi's most generous benefactor
In a partnership like no other at The University of Southern Mississippi, the Luckyday Foundation of Ridgeland, Miss., is continuing its support of the Luckyday Citizenship Scholars Program at Southern Miss with an additional commitment of more than $8.7 million through The USM Foundation. The Luckyday Foundation has provided over $35.7 million to the program to date, making it the University's most generous benefactor.
Founded by the late Frank R. Day of Jackson, Miss., the Luckyday Foundation funds scholarships for Mississippi high school seniors who are exemplary students with outstanding leadership skills and community involvement. Nearly two decades after the program's inception at USM, its mission remains strong as Mississippi residents gain the opportunity to pursue a higher education at Southern Miss through intentional student engagement, structured personal development and financial support. The performance of Luckyday Scholars has been astounding, as evidenced by a current cumulative GPA of 3.48, illustrating that student engagement and service lead to exceptional rates of student academic success and ultimately, graduation.
"Frank Day had a noble vision of investing in young people and their education," said Holmes Adams, chairman of the Luckyday Foundation Board of Managers. "The Luckyday Foundation is pleased to implement his vision through its support of the Luckyday Citizenship Scholars Program at USM."
Since 2001, the Luckyday Citizenship Scholars Program has impacted the lives of more than 1,800 students through scholarship, service, leadership and community engagement. Program staff and upperclassmen student mentors are enthusiastically preparing to welcome approximately 80 new freshmen per year into the Luckyday family for the next four years.
"I appreciate this vote of confidence from the Luckyday Foundation and its ongoing increased support for our students," said University President Rodney D. Bennett. "The Foundation's generosity will impact many more young scholars who will make significant contributions across the state of Mississippi as they grow into our next generation of great leaders."
The Luckyday Foundation's continued investment will provide each incoming Luckyday Scholar with $6,000 per year in scholarship assistance, renewable for three additional years, provided the student continues to meet eligibility criteria. While participating in the program, students gain extra support and encouragement to help assure their academic success through a freshman seminar, a freshman-year mentoring program, learning strategies and job seeking trainings, designated housing assignments to encourage a living/learning community, community service learning requirements and many other opportunities. Additional scholarships are also available for sophomore, junior and senior Luckyday Scholars to study abroad.
Under the leadership of Dr. Larry Sparkman, the Luckyday Foundation Citizenship Scholars Program has developed a national reputation for excellence due to the innovative programs it is able to provide because of the Luckyday Foundation's generosity.
"We are so fortunate to have the support and commitment of the Luckyday Foundation as it seeks to provide Mississippi's sons and daughters with an opportunity to attend Southern Miss and to grow as leaders during their tenure with us," said Sparkman, director of the program. "Our team is absolutely committed to providing students with development opportunities while working their way toward a college degree. Through intentional engagement with this unique program, Luckyday Citizenship Scholars are positioned to impact their future professions and communities upon graduation."
With service being a major component of the Luckyday Citizenship Program, scholars are introduced to the philosophy of servant leadership to inspire them to become leaders who choose to serve others first. Although students are required to volunteer 20 hours each semester beginning the spring of their freshman year, many students exceed this amount once they are engaged in meaningful service opportunities. Luckyday Citizenship Scholars have completed more than 182,000 hours of community service in and around the Hattiesburg area since 2002.
"Being a Luckyday scholar means I can contribute my time and efforts to make a difference for others. Practicing servant leadership allows you to lead wholeheartedly while being a part of the social change in the community," said Deidra Ollie, a senior Luckyday Scholar from Madison, Miss.
In addition to gifts toward student scholarships, another substantial gift from the Luckyday Foundation allowed for the creation of Luckyday Citizenship Hall, a designated on-campus community which was completed in 2014. This living and learning community provides an environment for freshmen scholars to be encouraged by upperclassmen mentors and develop a supportive group that guides their transition into the university experience. Luckyday Citizenship Hall is one of three buildings included in Century Park South, a residence hall complex located on the north side of the Hattiesburg campus.
"Southern Miss has been a wonderful partner," said Adams. "The University is an excellent steward of our funds and brings extraordinary creativity to the program for our students. The Luckyday Foundation could not be more pleased to continue our support of the program."
For more information about the Luckyday Citizenship Scholars Program at Southern Miss, visit usm.edu/luckyday.