CCE Announces Recipient of 2018-19 Service-Learning Award
Mon, 10/01/2018 - 10:45am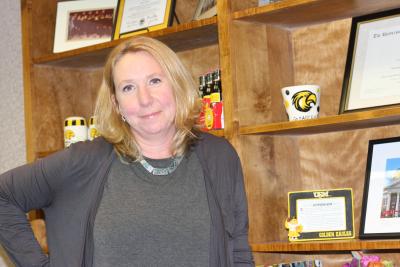 Dr. Stacy Creel
The Center for Community Engagement (CCE) at The University of Southern Mississippi recently announced the 2018-19 recipient of the Conville Service-Learning Development Award, a $2,000 grant for graduates of USM's Faculty Fellow Seminar on Service-Learning to pursue new service-learning initiatives.
The 2018-19 award recipient is Dr. Stacy Creel, associate professor in the School of Library and Information Science. During the next academic year, Creel will partner with library systems throughout Mississippi to explore how public libraries support underserved populations and what training and resources may be needed to better address their needs.
Students in Creel's online LIS 641 Public Libraries course will also inform this research through community-identified service-learning projects with their local library systems. Projects in previous years have included a book collection for prison libraries, a school supply drive, and a free seed library.
"The CCE is excited for the widespread impact of Dr. Creel's project, which will provide resources not only for Mississippi libraries but libraries in communities where her online students live," said Christy Arrazattee, CCE director. "This project enables future and current librarians to serve their communities and will have a lasting impact for years to come."
The information gathered through Creel's research will be distributed to various library systems on rack cards that list electronic and printed resources for public libraries who wish to serve marginalized populations. She will also present her research at the 2019 Mississippi Library Association Annual Conference.
"I am honored to receive this award and think this project can help both librarians and the people they serve," said Creel. "Public libraries are uniquely situated to meet the needs of underserved groups, but we may not always know the best way to do this. I hope that this project will be a springboard into research and resources like online training sessions, resource sharing, and much more."
The Richard L. Conville and Mozella P. Conville Center for Community Engagement Fund for Excellence provides one $2,000 grant each year to past graduates of USM's Faculty Fellow Seminar on Service-Learning for the purpose of developing or redesigning a service-learning class, conducting or developing community-engaged or service-learning research, collaborating on an inter-collegiate service-learning initiative, advancing and promoting service-learning at USM and integration service-learning into a college or department degree plan.
The Center for Community Engagement promotes community service and service-learning on The University of Southern Mississippi campus and throughout the Hattiesburg community. To learn more about the CCE at Southern Miss, call 601.266.6467 or visit https://www.usm.edu/center-community-engagement[BROKEN LINK].