Connon Named Director of USMs Hydrographic Science Research Center
Wed, 10/24/2018 - 10:21am | By: James Skrmetta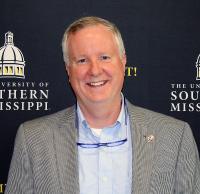 Captain Brian Connon
Captain Brian Connon, U.S. Navy (ret) has been named the director of The University of Southern Mississippi's (USM) Hydrographic Science Research Center (HSRC).
Connon joined the HSRC in September 2018 after a 28-year career as a naval officer. A graduate of USM's Hydrographic Science Master's Degree program, he commanded the Navy's Fleet Survey Team and was Superintendent of the U.S. Naval Observatory. Before becoming the HSRC Director, he served as director of the Maritime Safety Office at the National Geospatial-Intelligence Agency.
"As a graduate of USM's inaugural Hydrographic Science class (2000), it is truly an honor for me to be able to return in the capacity of director of the Hydrographic Science Research Center," he said. "I discovered my passion for hydrography here at USM and now I have the opportunity to help guide the next generation of hydrographers."
Since that inaugural class, USM's Hydrographic Science Master's Degree program has matured into the foremost hydrographic science program in North America. The one-year course is one of only two in North America recognized by the International Board and boasts a 100 percent job-placement rate for graduates.
"We are extremely happy to have Capt. Connon on board," said Dr. Monty Graham, director of USM's School of Ocean Science and Engineering. "There are few who have the breadth of his professional experience. "In the short time since his arrival, Capt. Connon has embraced the need to build the connections between USM and the varied stakeholders of hydrographic science."
The HSRC was created to develop and broaden the applications of ocean mapping and navigation technology. Scientists provide support to address the needs of governmental and commercial clients for information related to ocean navigation, the ocean floor and ocean processes. Development of the center emerged from a summit of 30 scientists from the United States and Canada, convened in October 2000 at USM's Gulf Park campus to develop a plan for a national center of excellence in hydrography.
"I'm really excited to join the USM research team and help drive the future of hydrographic science," Connon said. "Safe navigation starts with hydrography, so any improvement we can make by advancing technology, improving processes, and validating new methods is vital to the maritime industry."
Connon earned a master's degree in Hydrographic Science from USM, a master's degree in Meteorology and Physical Oceanography from the Naval Postgraduate School in Monterey, CA and a bachelor's degree in Geography from The University of South Carolina.
"My goal for the HSRC is to grow into a multi-faceted organization that is focused on the benefits of hydrography at all levels—state, national and international; as well as, across the different areas of hydrographic science," he said. "New focus areas of marine spatial data infrastructure, autonomous data collection and enhanced charting products will be explored along with our traditional study of hydrographic data collection and processing. It is an exciting time to be a hydrographer."