Dufrene Recipient of Prestigious Mentor Award
Fri, 02/09/2018 - 16:29pm | By: David Tisdale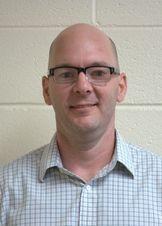 A University of Southern Mississippi faculty member has again been recognized for excellence in student mentoring.
Dr. Brad Dufrene, professor of psychology and director of the School Psychology Service Center at Southern Miss, has earned the Outstanding Mentor Award from the Conference of Southern Graduate Schools (CSGS). The award acknowledges and honors faculty members for outstanding success in mentorship of graduate students through excellent guidance, modeling of integrity and ethical behavior, and preparation for personal and professional success.
The award comes with a $1,000 stipend and coverage of travel expenses to the CSGS annual conference Feb. 22-25 in Fayetteville, Ark, where Dufrene will be presented with the honor. He was nominated for the recognition by USM Graduate School Dean Dr. Karen Coats.
Dufrene also received USM's Faculty Mentor of the Year award in 2017.
"The most rewarding aspect of my job is mentoring doctoral students in psychology, and observing their professional and personal development over several years and across their careers," Dufrene said. "I'm incredibly proud to have been nominated by former and current students, and to have their letters of recommendation play a large role in me receiving this award."
Dr. Zachary Labrot, a 2017 graduate of USM's school psychology doctoral program, said Dr. Dufrene continues to support him as his career develops. Dr. Labrot is currently a postdoctoral research associate at the University of Nebraska Medical Center's Munroe-Meyer Institute for Genetics and Rehabilitation, and will continue there in its Department of Psychology as an assistant professor of behavioral pediatric psychology.
Dr. Labrot's collaboration with Dr. Dufrene continues, as they work together writing research articles and book chapters in the area of school psychology.
"Dr. Dufrene tailored his supervision and teaching to match exactly what I wanted to pursue in a career," Dr. Labrot said. "He helped me develop research, writing, and critical thinking skills. As I searched for jobs, he served as a diligent adviser and supporter, writing several letters of recommendation for me and offering invaluable advice. I wouldn't be where I am in my career without Dr. Dufrene."
For more information about Dufrene's work at USM, as well as the university's academic programs in psychology, visit https://www.usm.edu/psychology.