Easterwood Named USM Vice President for Finance and Administration
Mon, 11/12/2018 - 02:00pm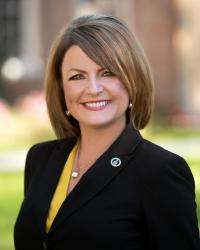 Allyson Easterwood
The University of Southern Mississippi has named Allyson Easterwood as Vice President for Finance and Administration, effective January 1, 2019, pending approval by the Board of Trustees of State Institutions of Higher Learning.
Easterwood has served as interim vice president since April of 2017. Over the past 18 months, she led efforts to improve the University's financial position through the implementation of necessary budget reductions and new strategies to meet the requirements of State Institutions of Higher Learning Board Policy 713: Institutional Financial Sustainability.
"During a relatively short period of time, Ms. Easterwood has helped navigate The University of Southern Mississippi through financial challenges to emerge as a stronger institution, positioned for greater financial stability," said University President Rodney D. Bennett. "I am confident that her deep understanding of complex, contemporary financial strategies for higher education combined with her steadfast commitment to USM will enhance our success as we continue our work to become the model for public higher education across the country."
With more than 25 years of experience in higher education finance, Easterwood has held progressively responsible administrative positions at USM since 2000. Most recently, she served as associate vice president for finance and controller.
"As an alumna and longtime employee, it is a privilege and honor to continue my commitment of dedicated service to USM," said Easterwood. "I am grateful and excited to work with President Bennett, the University's executive leadership team, and our talented faculty and staff to help further the mission of the University and maintain our commitment to excellence."
The current portfolio for the vice president for finance and administration includes oversight for all institutional financial operations and processes, procurement and contract services, auxiliary services, human resources, business services, facilities management, and information technology. The position is a member of the University's Executive Cabinet and reports directly to the University president.
As interim vice president, Easterwood provided oversight for the following initiatives:
Refinancing of institutional debt to further improve USM's financial position;
Advancements in converting paper or manual processes to electronic or automated processes;
Identification of a transformative data analytics platform that, once implemented, will help guide institutional decision-making to improve efficiency and effectiveness across all campuses and teaching sites;
Enhancement of compliance processes across business services and information technology units;
Facilitation of process and policy reviews across human resources, including the implementation of a customer-service partnership model and a new applicant tracking system as well as the development of a structure for a comprehensive classification and compensation system;
Development of an agreement with the City of Hattiesburg to offer transit services on the Hattiesburg campus;
Prioritization of major facility projects, including the renovation of Joseph Greene Hall;
Support of continued efforts to improve the competitive technology contract bidding process to realize additional cost savings; and
Relationship building to advance initiatives with internal and external stakeholders, including meetings with various groups to promote transparency of financial information and practices.
Prior to 2000, Easterwood worked for the Mississippi State Department of Audit in the Higher Education Division. She is a Certified Public Accountant and earned a Bachelor of Science in Business Administration with an Accounting emphasis from USM in 1991.