Eight Interns Graduate from USM's Project Search Program
Mon, 06/04/2018 - 10:44am | By: Jerry Alliston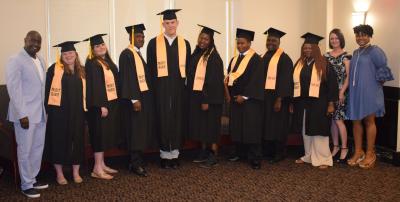 Graduates from the Project SEARCH Southern Miss program and select SEARCH staff pose for a graduation group photo. (Submitted photo)
In the words of English author A.A. Milne, "You are braver than you believe, stronger than you seem, and smarter than you think." This inspirational message was featured on the third annual Project SEARCH University of Southern Mississippi Class of 2018 graduation invitation.
These words eloquently describe the journey of Project SEARCH interns from their first day through the celebratory graduation in May.
Eight interns — four Hattiesburg High School students and four young adults from the community — participated in the 2017-2018 Project SEARCH training year. The goal of Project SEARCH Southern Miss is to increase the number of young adults with intellectual, cognitive and other developmental disabilities to obtain competitive, community-based employment.
Project SEARCH is a 10-month training program administered by USM's Institute of Disability Studies (IDS) that consists of daily employment preparatory skills training, community development, mentoring services and work internships. The interns participated in daily employment training and then completed three work internships.
"The third year of Project SEARCH Southern Miss was another very successful year of results and promotion of people's abilities over disabilities," said Dr. Jerry R. Alliston, interim associate director at IDS. "Thanks to the efforts of the SEARCH staff and partners, these interns were pushed to use their abilities and are now reaching their dream of paid employment."
Through collaborations with Aramark, Payne Center, Center for Child Development, School of Social Work Eagles Nest Food Pantry and IDS, the interns gained real-world employment experience USM's Hattiesburg campus.
For the 2017-2018 year, the interns fully completed the Project SEARCH requirements and participated in a graduation ceremony at the Thad Cochran Center in mid-May. In less than two weeks, four interns have secured community-based employment with the remaining four planning to secure positions this summer.
Project SEARCH is a collaborative effort among three strong Hattiesburg community partners. USM serves as the host business and provides training space and internships. The Hattiesburg Public School District provides a full-time teacher and the Mississippi Department of Rehabilitation Services supplies two job coaches. In addition, all interns are recommended to apply for Mississippi Division of Medicaid Waiver Services for long-term support.
Project SEARCH is a trademarked program that was originally developed at the Cincinnati Children's Hospital Medical Center in 1996 to offer employment opportunities for people with developmental disabilities in a medical setting. IDS received a grant through the Mississippi Council on Developmental Disabilities (MSCDD) in 2014 to plan and implement Mississippi's first program, making Project SEARCH Southern Miss a reality.
For more information on Project SEARCH Southern Miss, contact Project SEARCH Coordinator Jin Joo Crosby at 601.266.6037. To learn more about the Institute for Disability Studies, call 601.266.5163 or visit http://www.usm.edu/disability-studies.