Experience Business Casually Event Draws Large Student Turnout
Mon, 09/17/2018 - 15:12pm | By: Van Arnold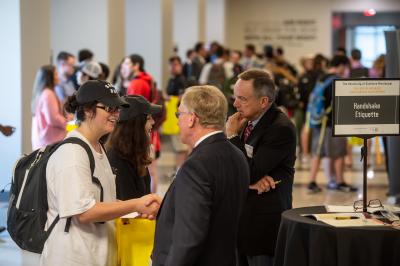 The "Experience Business Casually" event, held Sept. 13 at USM's Scianna Hall, was well-attended.
More than 300 University of Southern Mississippi students seized the unique opportunity to interact with professionals from the business world during the "Experience Business Casually" event held Sept. 13 on USM's Hattiesburg campus.
The annual event, coordinated by USM's College of Business and Economic Development, allows students and business professionals to interact in a casual, comfortable environment. Students were provided the opportunity to network from station to station, meeting professionals in attendance while gaining important insights.
Station topics included handshake tips, resume and cover letter critiques, financial tips, information on grad school and internships, along with other related subjects.
"The professionals that invest their time with us make such a difference by their participation in events such as Experience Business Casually," said Dr. Faye Gilbert, dean of USM's College of Business and Economic Development. "Students learn so much from these casual conversations about business standards and about career expectations in different fields. I am very grateful to Southern Farm Bureau Insurance for sponsoring this event that enabled students and professionals to network."
To learn more about the College of Business and Economic Development at USM call 601.266.4659 or visit: https://www.usm.edu/business