Following in Daughters Footsteps: 54-Year-Old Set to Earn Second Social Work Degree
Wed, 05/09/2018 - 09:24am | By: Geoff LoCicero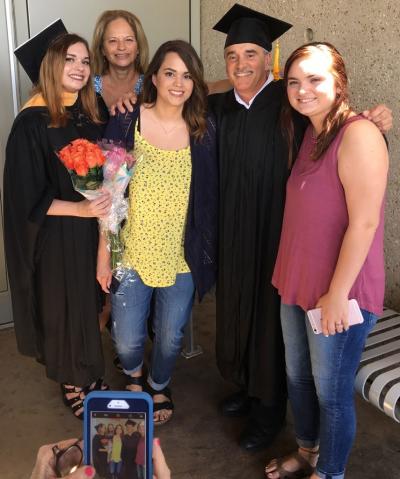 Pictured from left to right: Sam Henrie, Sue Henrie, Amy Henrie, Brian Henrie and granddaughter Hayley Smith at the May 2017 Commencement where Sam earned her MSW degree and Brian his BSW.
As a 54-year-old "nontraditional" student, Brian Henrie has become a father figure to the 14 students in his social work cohort at The University of Southern Mississippi.
Within his own family, though, he's just trying to keep up with his daughter, Sam – and ahead of his granddaughter, Hayley.
Henrie, a Gulfport native, will earn his master of social work degree later this week, a year after graduating with his bachelor of social work. Henrie took classes at both the main campus in Hattiesburg and the University's Gulf Park campus in Long Beach.
Though he won't attend this year's ceremony in Biloxi because of a family commitment, he can look back at last year's commencement, a family affair in which Sam received her MSW one year after her BSW.
"We had family come in from all over," Henrie says of the 2017 ceremony. "Wow, I can't even describe the feelings of walking with my daughter, the whole ceremony, and all the family being there. It was great."
And Hayley Smith may become the family's third-generation social worker. She graduates from Biloxi High School this spring and plans to follow in her grandfather's and aunt's footsteps at USM after attending community college.
"I'm so proud of her," Henrie says. "Sam and I are really excited, as all our family is, to see her graduate and become a social worker. I think she'll be a good one."
Family Struggles Led to Social Work Focus
Family history played an important part in Brian Henrie's decision to pursue his social work degrees.
"My father died of addiction when I was 23," he says. "I experienced that whole process. Shortly after that, my older brother contracted the HIV virus in 1987 and died in 1990.
"And that was probably the most impactful thing in my life. This was at a time when there were no social services, and there was a lot of stigma with HIV. So I decided to try to find a way to contribute. I started volunteering at the South Mississippi AIDS Taskforce, and did that for several years."
He also became a board-certified addiction counselor, but wanted to broaden his skills to provide more services. "I did need this, I really did. I was so limited with the social services I could provide. I was very good on addictions, but limited on mental illness and behavioral problems. And of course we know those always go together."
'The Front Line for Social Workers'
He credits the social work program, particularly the master's degree, with reshaping his career path and producing professionals to serve the vulnerable populations in Mississippi.
"What I've learned in this program … I don't know if you can even measure it. It's just been an incredible journey. My cohort and I talk about this all the time – if we had stopped at the BSW, we would have really cheated ourselves; we've learned so much more, infinitely more, than if we had stopped at the BSW level.
"I believe Mississippi and the Gulf Coast are the front line for social workers. They need to be here, and we need good professional social services and social workers to stay here on the Coast."
'I Grew up Going to AA'
Sam Henrie was the first in her family to earn a four-year degree. She is a children's therapist in Bay St. Louis at South Hancock Elementary, which contracts with her agency, the state-run Gulf Coast Mental Health Center. She initially wanted to be a counselor, in part because of her father's own addictions.
"I grew up going to AA (Alcoholics Anonymous) meetings, I was used to that kind of environment," she says. "I think I was the only kid in the third grade who could recite the AA prayer. I think that helped push me toward the counselor role."
One of her high school teachers recommended she get a social work degree to become a counselor. "I hated that idea," she admits. "I didn't want to be a social worker. In my mind, the profession was really boring, older people who wanted to take everyone's kids."
She was finally convinced at a career fair her senior year that "with a degree in social work, I could do any kind of helping profession, like a counselor."
'The Whole Social Work Thing'
By starting college before her father, she was able to help him navigate the process. "Whenever he needed help with an assignment or talking to a teacher, I could help him.
"We pretty much do the whole social work thing together," she says. "When we all get together as a family, we can be kind of annoying to the rest of the family because we keep talking about our jobs and try to one-up each other's stories."
Sam Henrie says she is "prouder of my dad than pretty much anyone," but she also shares the sentiment with her niece, Hayley, who has struggled with addiction along with her parents.
"She's doing great, steering clear of bad decisions she's made in the past. Talking with me and my dad about our careers and goals, she says it's really helped her to try and find something she enjoyed that much. She wants a job where she can help children and teenagers with situations similar to hers."
'They All Look at Me Like Their Dad'
Those kinds of bonds also extend to Brian Henrie's social work family, his classmates.
"It's a little weird sometimes, being 54 years old and everyone else around me is 25 or so," he says. "But we've gotten really close, and they all look at me like their dad or something."
Not that Sam should feel left out. Not with her equally proud father.
"My dad was telling everyone, 'Do you know my daughter? She was here a semester ago.' And everyone was like, 'You didn't tell me your dad was in my class.' But I wasn't going to brag about it."
Because social work, after all, is just what the Henrie family does.
Learn more about the USM School of Social Work.