IDS Program Creates Interactive Art Opportunities for Gulf Coast Community
Mon, 10/29/2018 - 13:15pm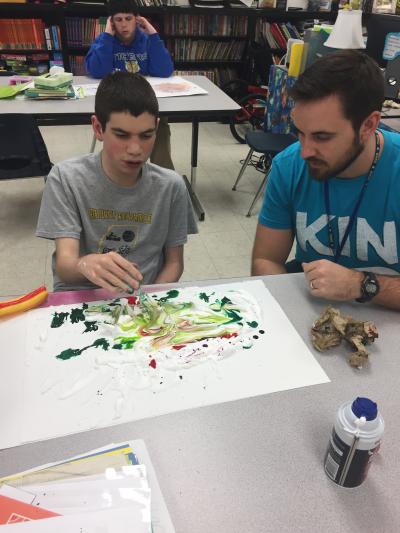 The Institute for Disability Studies has launched a unique "Art on the Go" program.
"I am my own muse. The subject I know best. The subject I want to better." – Frida Kahlo
---
Individuality and self-expression are powerful avenues for individuals to showcase who they are, what they believe in and their interests. Sometimes though, individuals with disabilities are hindered in their attempts to express themselves.
Often, we witness those in society without disabilities trying to hold back those with disabilities in showing their talents. This is the case when it comes to art and letting individuals with disabilities show their inner thoughts through a paint brush and canvas in a way they may not have been able to through oral communication. Art can be the vessel through which individuals with disabilities are able to showcase who they are, their beliefs and their interests.
The University of Southern Mississippi Institute for Disability Studies (IDS) offers an inclusive art-based program, "Art on the Go," for the local Gulf Coast community to utilize as participants in unique and expressive art projects.
IDS' Recreational Therapist Tyler Edwards travels to local schools, agencies, organizations and group homes to provide the program on a monthly basis. Each project is selected to meet the various needs of each individual participating in the activity and is selected as an age-appropriate and meaningful project.
The art projects selected focus on developing various skills such as, self-expression, abstract concepts, reminiscing, recollection and fine-motor. It is a core belief of the program that each individual participating has the potential to independently create a meaningful work that they are proud to call their own.
Each session has a process that Edwards follows. At the beginning of each session, he leads a short, detailed introduction to the project and then encourages each individual to independently create and finish their own art work. As the session continues, he speaks with each individual about their artwork to get a better understanding of how each person is processing the activity and the meaning behind their artwork.
Through this process of informal interviewing, IDS staff is able to obtain useful information about the individuals in the group and how they are processing the world and their own unique personalities. At the conclusion of the session, the group comes together to share their work with everyone and to take a picture that will showcase their work for others to see. Through this process, staff is able to introduce a new recreational activity, develop a rapport with the individuals, and showcase the participant's work.
"Art on the Go" traveled to a school in late May of this year for a session with a new group of students. The session was aimed at developing the abstract thinking and expression of the individuals through song lyrics and the visual representation of the lyrics. Each student was given the task of selecting their own lyrics from a song they enjoyed and painting how they interpreted the lyrics.
One student with an intellectual disability decided to paint his favorite movie and a character from the film. The student drew and painted a T-Rex from the film series 'Jurassic Park.' As he was drawing, his teachers saw his work and were amazed by how detailed and talented he was in drawing and painting.
Through informal conversation, IDS staff learned the teachers didn't know he had any artistic ability or that he had never taken an art class before. This is just one example of why IDS provides "Art on the Go:" to best showcase the skills and personalities of students with talents that may have been overlooked.
To learn more about the USM Institute for Disability Studies, call 601.266.5163 or visit: https://www.usm.edu/disability-studies