IHL Approves USM's New Center for Optoelectronic Materials and Devices
Thu, 08/02/2018 - 12:16pm | By: Kendra Ablaza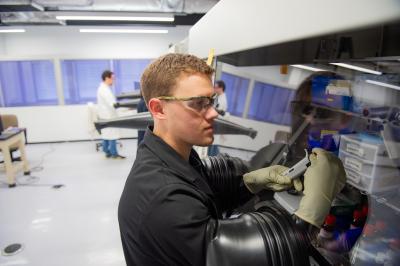 Anthony Benasco, a 3rd-year doctoral student in Polymer Science and Engineering, works in the new Center for Optoelectronic Materials and Devices at USM. (Photo by Kelly Dunn)
The University of Southern Mississippi (USM) is proud to announce the establishment of the Center for Optoelectronic Materials and Devices, to be housed within the School of Polymer Science and Engineering. The Mississippi Institutions of Higher Learning approved USM's plans for the center on April 19.
The center will feature advanced instrumentation to conduct pure and applied research in emerging areas of soft matter optoelectronics, lead important research that drives the creation of knowledge, and improve various products and technologies used in fields like energy, biomedical, and environmental sciences.
Optoelectronics is the technology of electronic devices that interact with light or other "invisible" forms of radiation. The center will initiate and promote collaborative research to enable advancements in the design, synthesis, and control of complex materials systems and associated technologies. These include applications such as infrared photodetectors, wearable health monitoring platforms, flexible solar cells, and devices that could sense contaminants in the ocean from oil spills, or in agricultural runoff. Many of the materials currently undergoing research could one day improve a person's quality of life.
Dr. Sarah Morgan, associate director and professor at the School of Polymer Science and Engineering will serves as director. Before the center was officially named, Morgan said the school started acquiring specialized instrumentation like a thin-film device fabrication facility with processing glovebox, thermal evaporator, electron beam, RF and DC magnetron sputtering and a ten-meter X-ray scattering system with small angle and wide angle capabilities for morphology analysis.
The center currently benefits from more than $5 million in external research funding from Department of Defense, Department of Energy and National Science Foundation grants and over $3 million in new, state-of-the-art instrumentation.
"This is a premiere facility for organic optoelectronic materials research in the Southeast," Morgan said. "The Center will enable collaborative research across the state, in disciplines including polymer science and engineering, chemistry, biological sciences, and marine sciences. We have attracted a number of new, highly qualified, research-active faculty to the program, and we are hoping to bring in additional top scientists through the Center."
The school's new faculty members have expertise in optoelectronic materials and come to Mississippi from highly prestigious National Laboratory and university post-doctoral fellowships, including Stanford, University of California at Santa Barbara, Sandia National Laboratories, and the Adolphe Merkle Institute in Switzerland. One of them is Dr. Jason Azoulay, assistant professor of polymer science and engineering, who was awarded the Nokia-Bell Labs Innovation second place award in 2017. Other new faculty members include Drs. Xiaodan Gu and Yoan Simon.
"Organic semiconductors have witnessed a dramatic increase in recent decades, with impressive demonstrations of new functionality, devices, and commercial applications. The centers technical focus will be to advance the integration of optical, electronic, spin, magnetic, quantum and interrelated properties in these materials for next generation devices and systems." said Azoulay, who is also the center's associate director and provides technical leadership.
The center is still developing. The school has housed much of the center's instrumentation for the past couple of years and it expected to acquire more in the future. It could also provide research opportunities to other institutions in the state.