Institute for Disability Studies Celebrates National Disability Employment Awareness Month With Activities for High School Students
Wed, 11/21/2018 - 13:34pm | By: Scott Mullins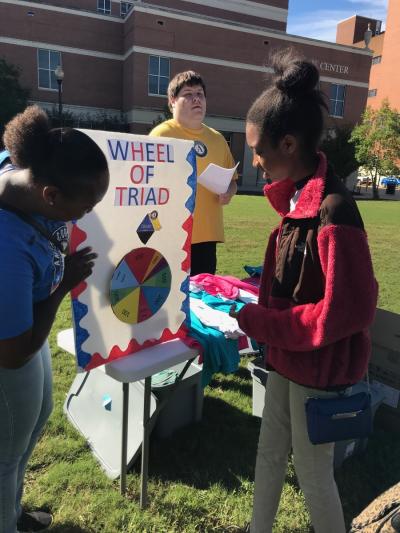 Aundrea Davis, Oak Grove Special Education student, participates in Wheel of TRIAD learning activity at National Disability Employment Awareness Month (NDEAM) Celebration with IDS Self Advocate Taylor Carley.
National Disability Employment Awareness month (NDEAM) is recognized across the United States each October to celebrate the contributions of workers with disabilities to the nation's workforce.
To underscore the importance of employment in the lives of people with disabilities, The University of Southern Mississippi Institute for Disability Studies (IDS) sponsored a series of NDEAM activities for youth and young adults participating in IDS' transition to adulthood programs. More than 100 Pine Belt and Gulf Coast area high school students had the opportunity to learn about employment at NDEAM events held Oct. 16-24.
Participating Pine Belt area high schools included Sumrall High School, Hattiesburg High School, Petal High School, and Oak Grove High School. Students attended separate daily sessions that featured self-advocates sharing their personal stories of success.
Speakers included TRIAD AmeriCorps member Zachary Sellers, IDS Self-Advocacy Coordinator Taylor Carley, LEND student Azmina Malik , IDS Transition Specialist Scott Mullins, TRIAD AmeriCorps member and president of the STEP UP Council Kahla Myers, TRIAD Volunteer Racheal Barnes, TRIAD Volunteer, Amber Allday, TRIAD Volunteer Nathan Hatten and SEARCH Intern Savannah Thompson. Activities including an employment skills spin the wheel activity and a health and wellness carnival all hosted by the TRIAD Service AmeriCorps Program.
IDS Gulf Park held a one-day NDEAM celebration on Oct. 24, for students from Gulfport, Pass Christian and Hancock County High Schools. Self-Advocacy Coordinator Taylor Carley shared his story of finding his voice and how it led to more work opportunities, including his current employment at IDS. Kahla Myers shared her personal story with Gulf Coast students.
This year's NDEAM event was sponsored through the Mississippi Council on Developmental Disabilities and Project Transition of Teens to Adult Living funded through the Mississippi Department of Rehabilitation Services.
For more information about NDEAM and transition to employment for youth and young adults with disabilities in Mississippi, contact Dr. Jerry R. Alliston at jerry.allistonFREEMississippi.