Mississippi IDeA Conference Promotes Biomedical Research in the State
Thu, 08/02/2018 - 01:53pm | By: Jamie Lott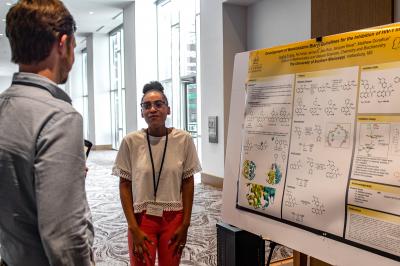 University of Southern Mississippi student Aysha Evans presents her research at The Big IDEAs for Improving the Lives of Mississippians, 2018 Mississippi IDeA Conference.
More than 400 attendees from 25 college and universities were on hand for the state's largest biomedical research conference held July 27 in Jackson, Miss.
The Big IDEAs for Improving the Lives of Mississippians, 2018 Mississippi IDeA Conference is the first of its kind, showcasing the biomedical research conducted by all six of the National Institute of General Medical Sciences' Institutional Development Awards (IDeA) funded programs in Mississippi.
"The conference highlights the many health issues facing the state. The conference also addresses how biomedical researchers from across Mississippi are addressing these health issues. We all hope that the ongoing biomedical research in our state will lead to improvement of the lives of Mississippians," said conference keynote speaker, Dr. Joey P. Granger, professor and dean of the School of Graduate Studies in Health Sciences at the University of Mississippi Medical Center.
At this meeting, faculty, post-doctoral fellows, graduate students and undergraduate students were able to present the research they had been working on as well as exchange ideas. The almost 150 students also had the opportunity to expand their own professional networks.
"The conference has been very helpful," stated The University of Southern Mississippi student, Aysha Evans. "I got a chance to interact and network with a number of different people and I got to sit in on a number of talks that were related to my specific interest."
The areas of research presented included: obesity & cardiometabolic diseases, cancer, neuroscience, infectious diseases & immunology, community health & health care disparities and integrating omics technology & general biomedical sciences. More than 130 researchers presented in oral and poster presentations.
"Presenting and discussing research results is an important part of science and the vibrant poster session of this conference saw graduate and undergraduate students from all across Mississippi engage in scientific discussion," stated Dr. Wolfgang Kramer, professor at Millsaps College.
The IDeA program is funded by NIH as a way to broaden the geographic distribution of NIH funding for biomedical research. As of today, this program funds 23 states and Puerto Rico in an effort to increase the biomedical research infrastructure in each state.
The six IDeA funded programs in Mississippi include Mississippi INBRE housed at USM, COBRE Cardiorenal & Metabolic Disease Research Center housed at UMMC, COBRE Natural Products Neuroscience housed at Ole Miss, COBRE Pathogen-Host Reactions housed at MSU, COBRE Center of Excellence in Perinatal Research housed at UMMC and the Mississippi Center for Clinical and Translational Research housed at UMMC.
For more information on this conference, please visit the website: msinbre.org/msidea2018.