Mississippi INBREs $19 Million Renewal Aims to Enhance Biomedical Research
Fri, 09/14/2018 - 01:16pm | By: Jamie Lott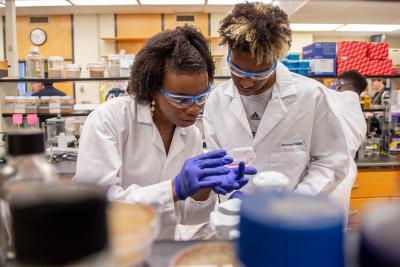 Student researchers work in one of the biomedical research laboratories on The University of Southern Mississippi's Hattiesburg campus. (Photo by Kelly Dunn)
The renewal of a $19 million grant for the next five years from the National Institute of General Medical Sciences (NIGMS) will allow Mississippi researchers and students to continue to enhance biomedical research in the state through the Mississippi INBRE program.
Mississippi IDeA Network of Biomedical Research Excellence (INBRE), housed at The University of Southern Mississippi, is funded by NIGMS' Institutional Development Awards (IDeA). The goal of the funding is to expand the biomedical research done and to increase the number of competitive researchers and students within the state. Mississippi INBRE has brought in more than $70.6 million since its inception in 2001.
"Our goals with Mississippi INBRE continue to be the improvement of the biomedical research infrastructure in the state, the training of students into research, and reaching underserved communities with medical education and assistance," said Dr. Mohamed Elasri, Director of Mississippi INBRE
Mississippi INBRE accomplishes its goals through three major efforts. The first of these efforts is the Mississippi INBRE Scholars program which has trained 675 students since 2003 to conduct biomedical research through summer-long research opportunities. The Mississippi INBRE Scholars program trains students in order to develop a more skilled and diverse workforce in biomedical research and health-related careers.
"The Mississippi INBRE Research Scholars program has enabled me to reach for new and bigger educational endeavors. It has opened my eyes to a broader realm of research and medicine," said Justin Coleman, Tougaloo College student and 2018 Mississippi INBRE Research Scholar. "The Mississippi INBRE Research program has given me numerous opportunities to display both my research and academic capabilities."
The second of these efforts is the engaging of underserved communities in Mississippi to address health disparities. This effort allows Mississippi INBRE to partner with My Brother's Keeper, Inc. in Jackson, Miss. to reach communities throughout the state. This partnership provides researchers the support to conduct community-based research and undergraduate students the opportunity to train in public health with an emphasis on health disparities.
"My Brother's Keeper, Inc. believes that equitable wellness is attainable for all Mississippi communities through culturally-appropriate service, data-driven science and sustainable solutions. The MBK partnership with Mississippi INBRE has allowed us to fulfill these priorities while engaging with and investing in the state's most valuable asset: our students," said Dr. June Gipson, President and CEO of MBK.
The last of these efforts is the enhancement of biomedical research capacity in Mississippi. Since 2001, this effort has led to the creation of 37 research labs in primarily undergraduate institutions where critical research is being done and students are able to get hands-on laboratory experience at their home institution. This effort also has brought about the establishment of three core facilities which aim to further support biomedical research and enhance the competitiveness of Mississippi researchers.
"Through support from Mississippi INBRE, we have been able to expand and strengthen our research capabilities, enhance curriculum and provide STEM students with the opportunity to experience research in biomedical fields," said Dr. Ellen Green, Chair and Associate Professor of Biology at Delta State University.
For the next five years, Mississippi INBRE desires to not only build on past successes but to also grow its impact through new initiatives that will increase the biomedical research done in the state.
"I am happy that NIH renewed our program which was due to the great accomplishments of the last phase and new and exciting plans for the next five years," said Dr. Elasri.
For more information about Mississippi INBRE, check out their website, msinbre.org.