Professor Presents Research on Potential Restoration of Coast Rail Service
Thu, 06/28/2018 - 11:44am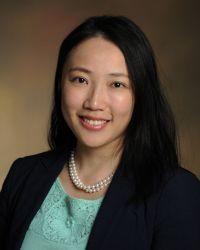 A study of the economic impact of restoration of rail service along the Gulf Coast was presented by University of Southern Mississippi (USM) professor Dr. Yuanyuan Zhang June 18 during a press conference hosted by the Southern Rail Commission (SRC) at the Gulfport (Miss.) Train Depot.
The SRC partnered with USM's Trent Lott National Center for the study, examining the potential for economic growth that European-style rail service would have in Mississippi, Alabama, and Louisiana. Dr. Zhang is a research professor working with the Trent Lott Center and USM's Center for Logistics, Trade and Transportation.
The benefits detailed in the study include increased tourism spending, employment, value-added, and economic output resulting from expenditures related to railway construction, station renovation, rail service operations, and potential train car maintenance and assembly services provided by Talgo, Inc. of Spain.
From 1993 through 2005, Amtrak operated an extension of the Gulf Coast Passenger Rail Service with night-time stops through the region, as part of a transcontinental Los Angeles-Florida run. For various reasons, including the route length and carrier operating conditions, successful on-time performance proved to be elusive, hindering the train's ridership and hence financial performance. Additionally, the lack of day-time train service hindered ridership. Since Hurricane Katrina in 2005, service has been suspended east of New Orleans.
Dr. Zhang said according to the results of the study, outputs of proposed railway related construction and operation could be very positive for both the state and counties served by the passenger rail service. The construction investment would support 277 jobs ($11,597,787 in earnings) and $16,859,165 as added value to the economy, with a total effect (including direct, indirect, and induced effects) of $34,511,898. The impact from the operation of the service can be expected to be 24 new jobs, $3,428,130 value added, and $6,086,947 as total output.
Zhang said since an accurate estimate of new visitors coming into the study region by the new service was not available at the time of the study, aspirational scenarios are assessed to give decision makers perspectives of the strength of potential tourism impacts. New visitors coming into the region as a result of the restored railway service and stimulated developments in cities served are estimated through scenarios of 1 percent, 5 percent, 10 percent and 20 percent increases in existing and projected tourism for Mississippi and Alabama. Louisiana was analyzed in 1 percent and 5 percent scenarios. In Mississippi, an increase in tourism as of 2020 from 1 percent to 20 percent could create 394 to 7,876 new jobs, add $12,711,757 to $254,235,146 as added-value, and generate a total output in the range of $24,296,224 and $485,924,479.
"The scenarios were given to illustrate how significant the impact from increased tourism could be at various levels, with not any scenario guaranteed," Dr. Zhang said. "However, based on the historical ridership data from a comparable service in the region, a five percent increase seems very reasonable, and a 10-20 percent increase has been proven by the evidence shown in other countries already.
"With a focused effort on combining the passenger rail service and local tourism promotion, and a more aggressive marketing strategy, it is reasonable to believe such increase in tourism is approachable."
For information about Dr. Zhang's work at USM, visit https://www.usm.edu/trent-lott-national-center/yuanyuan-zhang-phd. For information about the Trent Lott Center, visit https://www.usm.edu/trent-lott-national-center.