Social Work Colloquium Honors Field Instructors, Explores Social Justice Movements
Fri, 12/07/2018 - 04:18pm | By: Geoff LoCicero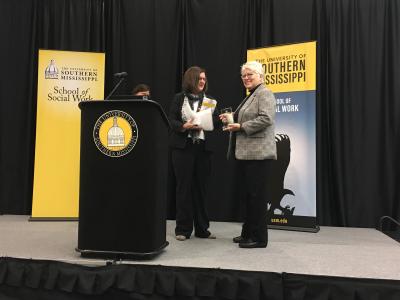 Dr. Susan Hrostowski, right, with School of Social Work Field Coordinator and Instructor Vickie Murdy.
A University of Southern Mississippi social work professor and social work alumna were named field instructors of the year at the annual School of Social Work Fall Colloquium.
Dr. Susan Hrostowski, associate professor, and one of her former students, Alix Dearing of Merit Health Gulf Oaks in Biloxi, were honored at the November event, which also featured speakers from around the state and Alabama.
Field instructors are licensed, master's-level social workers who oversee undergraduate or graduate social work students serving internships as part of their degree requirements. Each year, one instructor is chosen from the Gulf Coast and one from the Hattiesburg area.
"I'm very honored to be included in the same category as Dr. Hrostowski," says Dearing, who earned her master of social work degree in 2010 and is now a program manager for inpatient behavioral health. "She's an inspiration for me. It's very cool to be in the same category.
"I thought they were joking when they told me – not that they would do that. It was a big deal to me."
Hrostowski occasionally fills in as an instructor if a student interns at an agency that has no licensed social workers. She says it's rewarding to see former students develop into successful professionals.
"To me, that's one of the great things about teaching: You see what your students have become and how they help other people," she says. "What you hope and pray is that you planted seeds that help that person be the wonderful social worker they've become. I love Alix. She is such a neat human being.
"Two different students nominated me, and that's one of the things that makes it so meaningful. When it comes from them, that means everything."
The theme for the Colloquium was "Beyond 'Advocacy' – New Movements for Lasting Change." Speakers and topics included:
Dr. Tim Rehner, School of Social Work director, summed up the colloquium's theme of social justice-influenced movements by challenging students to focus on action:
"Hope is insufficient. It's necessary, but we need to do more. We've got to get in the game. We have to do something. It's not enough just to think about it and talk about it, we have to be advocates.
"We need to rebuild the inner soul. Bend the truth toward justice. We need to be generous, and we need to be just. And we know what that looks like from our National Association of Social Workers code of ethics.
"In terms of advocacy and speaking up, I'm convinced we all need to do more speaking up, when we see things that are wrong, unjust, discriminatory, exclusionary. And that's all of us, males and females, black and white."
--
Learn more about the USM School of Social Work.