Southern Miss Alumni Association Announces 2018 Hall of Fame Inductees
Tue, 09/25/2018 - 15:01pm | By: Nicole Ruhnke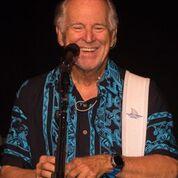 Legendary recording artist Jimmy Buffett, a 1969 USM graduate, was the first member inducted into the 2018 class of the Alumni Hall of Fame
The University of Southern Mississippi Alumni Hall of Fame was established in 1987 to recognize those whose contributions have helped move the University forward. On April 26, in conjunction with his concert at the Historic Saenger Theater, the Southern Miss Alumni Association inducted Jimmy Buffett '69 as the first member of the 2018 class of the University of Southern Mississippi Alumni Hall of Fame.
This week, the Alumni Association announced the remaining six alumni who will join Buffett in completing the 2018 class of inductees. The inductees include:
Max E. Draughn '84
Max Draughn is an entrepreneur currently serving as president of Heartwood Capital Inc., a private equity firm. Throughout his career, he has started more than 10 new companies in industries from agriculture to pharmaceuticals. He currently serves as president of the Mississippi Pecan Growers Association and sits on the Board of Directors for the Southeastern Pecan Growers Association and the U.S. Pecan Council.
Kathleen Koch '06
Kathleen Koch is an inspirational speaker on disaster and resilience, and founder and executive director of LeadersLink – a nonprofit created to harness and share elected officials' disaster lessons learned to help cities and counties better prevent, prepare for and recover from similar crises. She is also an award-winning author of Rising from Katrina and a former CNN Washington correspondent.
Tommy O. Mann '85 (posthumous)
Tommy Mann passed away on September 26, 2017 at the age of 54. Just weeks prior to his passing, he received the news he had been selected for induction into the Southern Miss Alumni Hall of Fame. Mann had a highly successful business consulting career as Accenture Consulting International's Global Manager for the petro-chemical industry. Following his retirement from Accenture, he served as managing partner for Sparkhound Consultants in Houston, Texas and owned multiple small businesses.
Robert D. Pierce II '91
Bob Pierce serves as the vice president for advancement at The University of Alabama. He previously served The University of Southern Mississippi as executive director of the Southern Miss Alumni Association from 1998 – 2010 and vice president for university advancement and executive director of the USM Foundation. During his tenure with the University, he played a key role in raising private funds to support the construction of such capital projects as the Ogletree House restoration and expansion, the Langton Centennial Gateway, Asbury Hall, Scianna Hall and the Moffitt Health Center.
Andy Stetelman '83
Andy Stetelman serves as President of London & Stetelman Commercial Realtors, a fourth-generation, family-owned business in the Pine Belt. He holds the Society of Office and Industry Realtors designation – the highest achievement for an office and industrial specialist. He serves as chairman of the Hattiesburg Convention Commission among numerous other leadership roles throughout the community.
Adalius D. Thomas '99
Following a successful career as both a Golden Eagle football and basketball player, Adalius Thomas is now a successful entrepreneur. He owns three restaurants in four locations and is also CEO of FSV Tech, a certified minority owned business founded by former NFL players. Thomas played ten seasons in the NFL as a linebacker for the Baltimore Ravens and New England Patriots. In addition to being a part of the winning team for Super Bowl XXXV, Thomas became a two-time Pro Bowler in 2003 and 2006; a two-time member of the Phil Sims All Gridiron team; and led the NFL in non-offensive touchdowns in 2005.
These outstanding alumni will be inducted into the Southern Miss Alumni Hall of Fame on Friday, Oct. 19, as one of the highlights of the 2018 Homecoming celebration. The banquet and ceremony will be held in the Grand Ballroom of the Thad Cochran Center on the Hattiesburg campus and will begin at 6:30 p.m. Limited seating is available to the general public. All-inclusive tickets for the event are available for $50 and may be purchased by contacting the Alumni Association at 601.266.5357.
In addition to the Alumni Hall of Fame Banquet, the Alumni Association will host its 20th Annual Alumni Homecoming Golf Tournament on Friday, Oct. 19 at Hattiesburg Country Club with a shotgun start at 8:30 a.m. Priced at $150 per player, all proceeds benefit the Association's Robert D. Pierce II Legacy Fund, which provides scholarships for select children and grandchildren of alumni. Registration for the tournament is available at SouthernMissAlumni.com/HomecomingGolf2018.
On Saturday, Oct. 20, the Southern Miss Alumni Association will hold an Awards Lunch and Business Meeting at noon to honor alumni who have invested in the University and elect incoming members to the Alumni Association Board of Directors. The Association will also host its annual Membership Appreciation Tailgate for active members of the Alumni Association prior to the Homecoming game.
The USM Golden Eagles will face C-USA rival UTSA at The Rock at 6 p.m. Eagle Walk will begin at 4 p.m. For more information on any Homecoming event hosted by the Southern Miss Alumni Association, visit SouthernMissAlumni.com/UpcomingEvents or call 601.266.5013. A complete list of Homecoming festivities for the University may be found at USM.edu/Homecoming.