Southern Miss Spring 2019 University Forum Schedule Set
Wed, 12/12/2018 - 13:17pm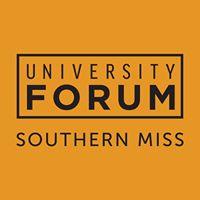 The spring 2019 University Forum series at The University of Southern Mississippi (USM) will feature some of the most influential writers, policy makers, and scientists in the U.S., whose work shines a light on things hidden to most of us.
All spring 2019 University Forums will be held on Tuesdays at 6:30 p.m. on the Hattiesburg campus. Admission is free, and members of the university community and general public are invited.
"Our University Forum's spring speakers are coming to challenge us to think anew about our world," said Dr. Andrew Haley, associate professor of history and director of University Forum.
The schedule of presenters is as follows:
*Sarah Smarsh, Feb. 12, Bennett Auditorium: Smarsh, a National Book Award finalist for HEARTLAND: A Memoir of Working Hard and Being Broke in the Richest Country on Earth, will tell the story of growing up amongst American's rural, working poor, who are often overlooked by politicians.
*Gina McCarthy, March 26, Bennett Auditorium: A former EPA Administrator, McCarthy will speak about the invisible pollutants that threaten our world, and what we need to do to survive.
*Bob Ballard, April 16, Mannoni Performing Arts Center (PAC): Ballard, an underwater archeologist and oceanographer who discovered the wreck of the renowned passenger liner RMS Titanic, will talk about the historical and scientific mysteries beneath our oceans. Ballard's presentation is supported in part by the USM Office of the Vice President for Research.
Dr. Ellen Weinauer, dean of the USM Honors College, said the spring University Forum speakers "all promise to bring diverse and important conversations to Southern Miss and to Hattiesburg."
"Whether writing a memoir about a working-class Kansas childhood, legislating on behalf of the environment, or making astounding undersea discoveries, our speakers are change-makers who have a great deal to teach us about the world we inhabit," Dr. Weinauer said. "I am thrilled that the Honors College plays a part in bringing such highly regarded thinkers, writers, and researchers to our campus and city communities."
University Forum is presented by the USM Honors College, with support from the university's Office of the President. For more information about University Forum and the Honors College, visit https://www.usm.edu/honors/current-schedule.