Sport Management Collaborates with NCS4 in Sport Facility and Event Management Class
Tue, 11/27/2018 - 11:16am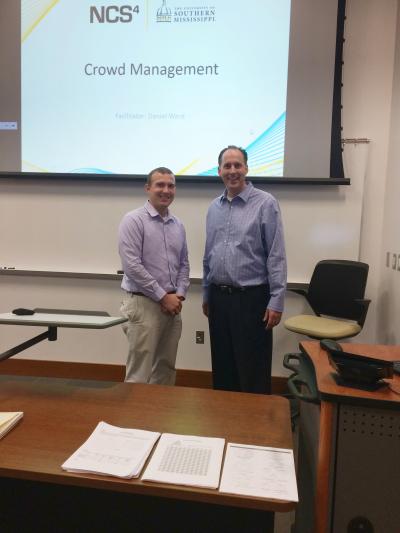 Dr. Daniel Ward, left, and Dr. Chris Croft
The University of Southern Mississippi Sport Management program collaborated with the National Center for Spectator Sport Safety & Security (NCS4) in its Sport Facility and Event Management class this fall semester that enabled undergraduate students to become more aware of the center's goals and objectives.
Additionally, the teaching opportunity provided NCS4 an opportunity to evaluate new course content for national and international training programs.
Dr. Chris Croft, Assistant Professor of Sport Management, and Daniel Ward, Assistant Director of Curriculum with NCS4, spearheaded the joint effort.
"NCS4 provides nationally and internationally accredited training for those responsible for safety and security at professional, intercollegiate, and interscholastic sports and special events," said Ward. "With many students interested in working in these environments, we were excited to introduce ourselves and play a part in their education."
Added Croft: "I thought it would be extremely beneficial for our class to learn more about sport security and have a better understanding of technology currently being used at sports' events.
Ward orchestrated the three training sessions through the course of the semester that included:
NCS4 Development, Programs, & Operations
Risk Management & Assessment
Crowd Management.
The first session introduced the students about the program, and opportunity to review the NCS4 Laboratory and technology. The second and third sessions focused on content knowledge in each area, and then the opportunity for students to participate in a series of tabletop exercises examining sport security at event and facility sites.
In both of these situations, students were able to review past sporting events' situations while evaluating positive and negative security interactions with fans.
"It is our hope that the work done this semester will assist eventual industry leaders in creating and managing safe and secure environments for sporting and special events," said Ward.