Sport Management Professionals Share Insights at USM Symposium
Fri, 11/16/2018 - 11:11am | By: Bailey Harris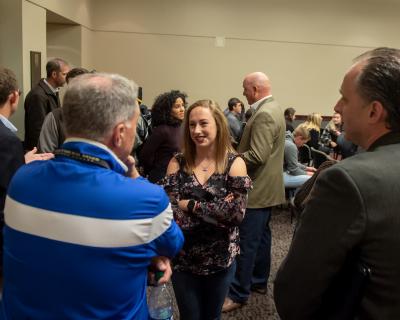 Sport Management professionals offered advice to USM students as part of a symposium held Nov. 15 on the Hattiesburg campus.
Four sport professionals offer insights and ideas as part of a Sport Management Symposium hosted by The University of Southern Mississippi's College of Business and Economic Development Sport Management faculty on Thursday, Nov. 15.
Jonah Beck, the Director of Operations for the Sanderson Farms PGA Championship, Bryan Caldwell, the Athletic Director for Gulfport High School, Deven Matthews, the Director of Ticket Sales for USM and DJ Pulley, Athletic Director for William Carey were the honored guests.
Leah Williams, a Sport Management graduate assistant, served as moderator for the panel discussion. "The purpose of this event is to invite sport professionals from different sectors of the sport industry to provide advice on how they got where they are now. It is something all students struggle with - how do I get my foot in the door," she said.
Some of the questions asked of the executives included "How did you break into the industry?", "What are your responsibilities?", "What does your average day look like?", and What are steps students can take now to prepare for their career?", and "What one single, most important piece of advice would you give a young professional?"
Noted Morgan Holloway, a Sport Management undergraduate student, "I came to this event to learn more information on how to get started in a professional career path in sport management and the speakers that attended gave the advice I need to gain a better understanding of how this process works."
To learn more about the USM College of Business and Economic Development, call 601.266.4659 or visit: https://www.usm.edu/business.