STEP UP to Leadership Council Celebrates 10th Anniversary
Tue, 02/20/2018 - 10:13am | By: Jerry Alliston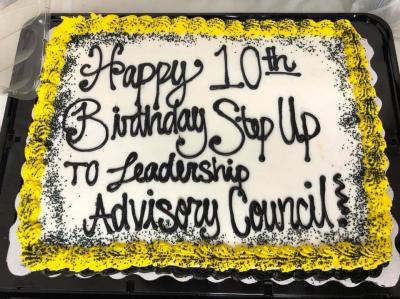 Graduation, first jobs, first college classes, a pageant winner, a national conference presenter, guest on national YouTube series, a local YouTube program host, state and national awards – these are just a few of the significant life accomplishments made by the Starting Today Empowering Peers through Uniting and Participating (STEP UP) to Leadership Council members during the last 10 years.
Last month, the council celebrated its 10th anniversary with cake, a reception and members sharing their favorite STEP UP memories and stories. Members then began their work on improving transition to adulthood activities by presenting the first-ever STEP UP awards and confirmed the STEP UP calendar for the spring semester.
The STEP UP to Leadership Council held its first meeting at the Institute for Disability Studies (IDS) at The University of Southern Mississippi in January 2008. The council originated from an IDS grant that focused on promoting post-secondary education for high school students with disabilities.
The first council was composed of young people with disabilities, those who serve them and parents. The primary focus was to provide education on how services change for students with disabilities as they transition from high school to college. However, the scope and impact of the council quickly broadened.
"It was evident that more services, program and education were needed for all high school students with disabilities, regardless if they planned to attend college or not. And, the young people wanted their voice to be heard as the council members," said Dr. Jerry R. Alliston, Interim Associate Director, Institute for Disability Studies.
Within the first year, the council membership changed to include youth and young adults with and without disabilities only and the focus became on all transition to adulthood activities. Over the years, primary activities have included disability etiquette training, leadership development, inclusive recreation, driver's test preparation and service to others.
Council members serve as leaders within their schools, colleges/universities and communities. Alliston explained, "The council provided opportunities for these young leaders to provide service in their communities and to spend time with other young people."
Dozens of university students and community youth/young adults with and without disabilities have been part of the STEP UP Council.
Jesse Gable was one of the first STEP UP Council leaders and also served as president. Now a teacher in Alabama, married and a father, Gable has been recognized for his work on seat belt safety. Gable noted the impact STEP UP had on him personally and professionally.
"STEP UP offered me a lot of opportunities. I had the pleasure to go to Washington DC twice," he said. "However, the best opportunity STEP UP provided me was teaching me about myself. I learned I had to advocate for myself, and STEP UP taught me how to advocate for myself and others."
Tawanda Womack, another past president, now lives in Texas and works for the Department of Homeland Security as a transportation security dual function officer /passenger support specialist. Womack credits her involvement with the STEP UP Council in assisting her with her career.
"STEP UP helped me to become better at serving others and being more aware of those around me and their needs. As well as teaching me how to be a supporter and advocate for those who have the courage to speak up for what they believe in," she said "I am proud to say that STEP UP prepared me for the career path I am currently in. In my career, I am able to assist wounded warriors and people with disabilities respectfully through the screening process. I could not have been more prepared to do this position because of my STEP UP experience. I look forward to using my experience even more as I move to higher levels in my career."
Taylor Carley, another past president, works full-time at the Institute for Disability Studies as the first youth/young adult self-advocate. Carley continues to share his story including his involvement with STEP UP to others as he recruits new council members often. Carley hosts his own YouTube series titled Chit Chat Thursday with Taylor that discusses advocacy and other disability-focused activities in Mississippi.
Taylor emphasizes that his involvement with STEP UP helped him get to where he is today and he lives by his motto, "Disability is an ABILITY. I am just like everyone else!"
For more information about joining The STEP UP to Leadership Council, contact Rebecca McKeehan, STEP UP Staff Liaison, at 601.266.4745 or rebecca.mckeehanFREEMississippi. STEP UP updates are available on Facebook at https://www.facebook.com/STEPUPtoLeadership/. Youth and young adult may apply to be STEP UP members online at www.usm.edu/disability-studies/stepup.