Symphony Orchestra and Choral Activities Present Holiday Choral Spectacular November 27 & 29
Mon, 11/19/2018 - 15:32pm | By: Mike Lopinto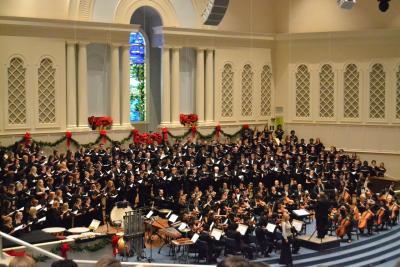 The University of Southern Mississippi (USM) Symphony Orchestra and USM Choral Activities will present the Annual Holiday Choral Spectacular on Nov. 27 & 29. Both performances are set for 7:30 p.m. at the Main Street Baptist Church in Hattiesburg, Miss. The event is presented in part by the generous support of Partners for the Arts.
The Symphony Orchestra is joined by the Hattiesburg Choral Union, which represents all the major ensembles at the university. In addition, students from Petal Middle School, Purvis Public Schools, Columbia Public Schools, and the 3D School in Petal will join in the grand finale.
"Audiences will hear recognizable holiday classics like 'It's the Most Wonderful Time' and 'Hark! The Herald Angels Sing'," said Director of Choral Activities Dr. Gregory Fuller. "It's a great opportunity for all the artists of the Hattiesburg area to spread some holiday cheer to everyone."
Laurel native and nationally recognized composer James Mulholland will also be featured on the program.
For tickets, call either 800.844.8425 or 601.266.5418 or go to southernmisstickets.com. For more information, contact Dr. Gregory Fuller at gregory.fullerFREEMississippi.