USM Chemistry Professor Selected as Advocate for High School Students
Wed, 05/09/2018 - 10:13am | By: Van Arnold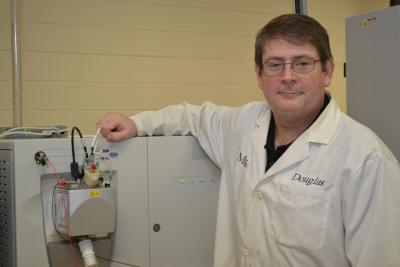 Dr. Doug Masterson
University of Southern Mississippi chemistry Professor and Associate Provost Dr. Doug Masterson has been chosen as one of 50 national Advocates by the Society for Science & the Public who will work to assist underrepresented students in finding opportunities to participate and compete in science research competitions.
Masterson will serve as one of six Lead Advocates who will mentor groups of Advocates. He will help other scientists and educators prepare high school students to enter their research into competitions, while also working closely with students themselves.
Masters notes that he takes a tremendous amount of personal satisfaction in helping students to develop competitive science fair projects.
"When I was a high school student, I was fortunate enough to participate in science fairs and successfully compete in those competitions, so I am paying it forward so to speak," he said. "Meanwhile, the University benefits by having students spend time on our campus and work with professors in their laboratories to do the research for their science fair projects."
This is the third consecutive year that Masterson has been selected as an Advocate for the national program. He points out that most of the projects will come from the work students perform at USM during the summer as part of the American Chemical Society Project SEED program.
"This is an excellent outreach program that has resulted in several students deciding to attend USM," said Masterson. "The Lead Advocate portion of the award allows me to work with other educators across the nation in developing their own programs."
Project SEED was established in 1968 to help economically disadvantaged high school students expand their education and career outlook. The program provides opportunities for students who historically lack exposure to scientific careers to spend a summer conducting hands-on research with a scientist in academic, industry, and government research laboratories.
To learn more about the Society for Science & the Public Advocate Grant Program, visit: https://www.societyforscience.org/content/press-room/society-science-public-announces-50-advocates