USM to Host All-South Marching Band Day on Sept. 8
Tue, 09/04/2018 - 10:49am | By: Mike Lopinto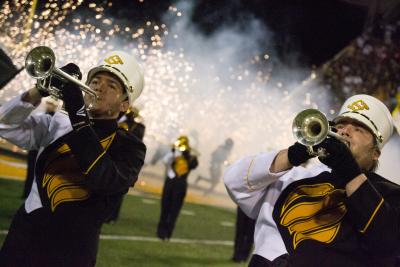 USM Pride of Mississippi Marching Band
The University of Southern Mississippi Pride of Mississippi Marching Band will welcome hundreds of area band students, their directors and families to All-South Marching Band Day on Saturday, Sept. 8. Participants will experience a full day of activities with the Pride, culminating in a performance at M.M. Roberts "The Rock" Stadium.
All-South Marching Band Day is a proud tradition held by The Pride where high-school level musicians get a fantastic opportunity to experience collegiate marching band.
They will perform during half-time of Saturday's game against Louisiana-Monroe in Hattiesburg and in the stands with The Pride during the home football game. Lasting all day, the participants rehearse on beautiful new Pride Field in the morning.
Since its founding in 1920 as a 20-piece brass ensemble, the Southern Miss band has evolved into a boastful marching band of more than 300. The Pride has enjoyed more television and national audience exposure than any other band in the South, having performed at events such as the F.D.R. inaugural parade, the Senior Bowl, and the Saint Patrick's Day Celebration in Ireland.
For registration and more information please visit https://www.usm.edu/music/all-south-activities.