USM Online Nutrition Program Receives Top National Ranking
Tue, 11/20/2018 - 01:50pm | By: Van Arnold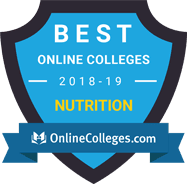 The online nutrition degree program at The University of Southern Mississippi has received a No. 1 ranking nationwide by higher education resource guide OnlineColleges.com.
The guide's 2018-19 list of the best online colleges for nutrition degrees was compiled using data provided by the National Center on Education Statistics' Integrated Postsecondary Education Data System (IPEDS). Researchers analyzed data points such as in-state tuition costs, graduation rates and admissions rates with unique methodology, considering what might be most important to nontraditional online students to determine the weighting for each point.
Dr. Jennifer Lemacks, Associate Director and Associate Professor in USM's School of Kinesiology & Nutrition, said the current program was created to be fully online to meet the diverse needs of the nutrition profession.
"The dietetics profession is following suit with many other health fields and in years to come, will require a graduate degree to sit for the registration exam," said Lemacks. "Our faculty have all worked together to breath this program into life and it is both rewarding and validating to see it recognized as a top online program."
USM serves Mississippi students through its campuses in Hattiesburg and Long Beach, and students all across the United States through its online portal, Online at Southern Miss. Students who enroll in Online at Southern Miss do not have to pay out-of-state tuition, which can make the University's online Master of Science in nutrition and food systems degree program (with an additional emphasis in dietetics practice) an appealing option for distance learners. A dietetics internship is a core requirement of the program, as is a capstone research project.
"We work hard to provide high quality education in the fully online setting. We are proud that this program has received this honor, and we look forward to continuing to provide graduate education to future nutrition professionals." Said Roxanne Kingston, Dietetic Internship Program Coordinator.
Lemacks notes that beyond high quality, advanced courses, faculty also ensure that every online student feels as though he or she is receiving the same personable attention as those attending a face-to-face class.
"We foster relationships with our students and truly care about their success in future careers. We hope more students will come to our program to personally find out why our program is the best in the state and nation," she said.
To see the full rankings, visit: https://www.onlinecolleges.com/health/nutrition.html. To learn more about the Nutrition and Food Systems program at USM, call 601.266.5377 or visit: https://www.usm.edu/nutrition.
The University of Southern Mississippi offers both undergraduate and graduate programs fully online. To learn more, visit https://online.usm.edu/.