USM Ph.D. Student Named Fulbright-Hays Doctoral Dissertation Research Abroad Fellow
Tue, 10/09/2018 - 13:25pm | By: Kendra Ablaza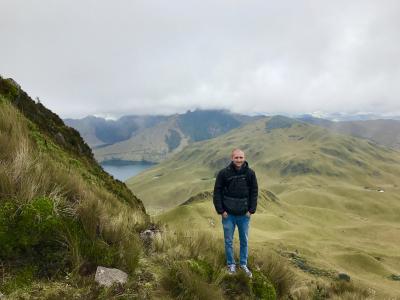 USM doctoral student Chris Hair will spend six months in Ecuador as a Fulbright-Hays Doctoral Dissertation Research Abroad Fellow.
University of Southern Mississippi Ph.D. student Chris Hair has received a Fulbright-Hays Doctoral Dissertation Research Abroad fellowship from the U.S. Department of Education to support his international research.
Hair, 36, of Spokane, Wash. will spend six months in Ecuador working with indigenous farmers in Cotacachi, a town in the Imbabura Province more than 60 miles north of Quito. Hair will use drones to survey and map small-scale farms in Ecuador to record agrobiodiversity, while conducting surveys and leading workshops with indigenous farmers, who are often women, to understand farm management and technology.
He will be communicating in both Spanish and Kichwa, a variety of Quechua and a widely-spoken indigenous language in the highlands of Ecuador.
The data Hair collects during his fellowship will contribute to his work as a USM Ph.D. student in human and cultural geography. He is one of 100 awardees throughout the U.S. who will conduct full-time dissertation research abroad in foreign languages through the Fulbright-Hays fellowship program this year. The program gives preference to less commonly taught languages and research projects in not only STEM fields but also education, international development, and public health, among others.
Hair's work, which will take place December through June, involves mapping some 300 farms and capturing images of crops and field organization. The data he collects can serve multiple purposes from documenting every species that has grown in the area to creating maps for tourism, Hair said. He will also train residents how to fly survey missions with drones.
Hair started his preliminary research in Cotacachi while completing his thesis as a graduate student at USM. He said this group of primarily-female farmers encounters a number of obstacles both as small-scale farmers and as women, from competing in a market dominated by single-crop farms to experiencing discrimination when bringing their crops to market.
"A lot of these women continue with agriculture as a form of subsistence," Hair said. "Farming is a tradition that has been there for a long time, and it's a way to provide food for their families. Making the decision to grow multiple types of crops can provide a well-balanced and healthy living."
The highly-competitive fellowships cover travel, living costs, health insurance and other research-related expenses for six to 12 months. Spouses and children are also supported.
Karen S. Coats, dean of the Graduate School and one of a handful of USM educators who helped Hair with his application, said Hair's project location, Ecuador, is a perfect fit for the Fulbright-Hays DDRA program.
"Being selected to receive a Fulbright-Hays DDRA is an incredible accomplishment," Coats said. "These awards are highly competitive so only the most outstanding, well-written proposals are selected for funding. Chris's fluency in Spanish, his knowledge of the region, and the expertise he was able to demonstrate in his proposal set it apart. I am very proud of Chris. I hope his success will encourage other graduate students to apply for this and other Fulbright student awards. They are among the most prestigious awards to be won…very valuable to one's future career aspirations."
Geography professor David M. Cochran, Jr. helped Hair during the application proposal process. Cochran received a Fulbright fellowship when he was a Ph.D. student. He conducted research in Honduras through the Fulbright U.S. Student Program, a different Fulbright program administered by the Institute of International Education.
Cochran said this fellowship is an enormous honor for Hair and USM. The application process is incredibly selective, and "probably 95 percent of the people (who apply) don't get it," he said.
"The (project's) purpose is to essentially improve the lives of hard-working indigenous farmers in highland Ecuador," Cochran said. "It's pro-development in that it will help to introduce cutting-edge technology among a rural population that historically has been disadvantaged. I think that resonates with the Fulbright mission: Americans going to foreign locales, not only to learn from their experiences, but also to share their own knowledge and to help improve the lives of local people in the process."