USM Polymer Students Accrue National Scholarship Recognition
Wed, 04/25/2018 - 13:11pm | By: Van Arnold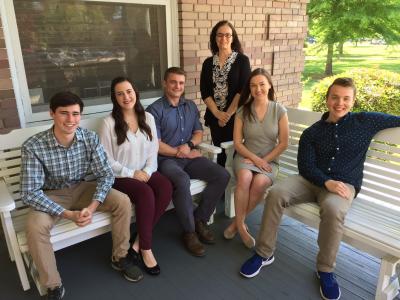 Pictured left to right: Michael Sandoz, Sarah Swilley, Blake Martin, Robyn Curtis, Director of Nationally Competitive Programs, Erin Crater, and Nathaniel Prine.
The University of Southern Mississippi's polymer program has a renowned reputation for cultivating some of the country's brightest young research scholars. As the 2017-18 academic year winds down, five more high-achieving polymer students have earned distinction from several national scholarship programs.
The honorees and their awards include:
William "Blake" Martin is a senior from West, Miss. He has been selected as a 2018 National Science Foundation Graduate Research Fellow. He was a 2017 Goldwater Scholar Honorable Mention and the first community college transfer student USM has ever nominated for that award.
Erin Crater is a sophomore from Jonesville, N.C. She has been chosen by the National Oceanic and Atmospheric Association (NOAA) as a 2018 Ernest Hollings Scholar. She is also a 2018 Goldwater Scholarship Honorable Mention.
Michael Sandoz is a sophomore from Long Beach, Miss. He was selected as both a 2018 Goldwater Scholarship Honorable Mention and 2018 Udall Scholarship Honorable Mention.
Nathaniel Prine is a senior from Petal, Miss. He was selected as an Honorable Mention for the 2018 National Science Foundation Graduate Research Fellowship. He was also an Honorable Mention selection for the 2016 and 2017 Goldwater Scholarship.
Sarah Swilley is a senior from Madison, Miss. She received an Honorable Mention for the 2018 National Science Foundation Graduate Research Fellowship program.
The students are all members of the University's Honors College. Robyn Curtis, Director Nationally Competitive Awards at USM, notes that each has been heavily involved in undergraduate research since very early in their careers, while also publishing and presenting their work at national conferences.
"Year in and year out the School of Polymers and High Performance Materials produces high-caliber students whose research efforts are recognized at the highest levels," said Curtis. "It was no surprise to me to see this group of students have such strong results. They are absolutely receiving a top-flight education with extraordinary access to sustentative research experiences, which will serve them well throughout their research careers."
Martin transferred to USM from Holmes Community College where he was a Phi Theta Kappa graduate. He is one of only 726 graduating seniors selected for the NSF Graduate Research Fellowship from more than 13,000 applicants. The NSF Fellowship provides three years of fully portable funding to any graduate program in country. He will receive a $34,000 annual stipend and his graduate institution receives an annual cost-of-attendance stipend.
Martin is the fifth student under the mentorship of USM Polymer Professor Dr. Derek Patton to receive an NSF Graduate Research Fellowship since 2014. In June Martin will begin his doctoral program at Case Western Reserve University, a private research institution in Cleveland, Ohio.
"I'll be working on my Ph.D. in macromolecular science and engineering under Dr. Valentin Rodionov of King Abdullah University in Saudi Arabia," said Martin. "This is a new lab that Dr. Rodionov is directing at Case Western, and I'll be there to help set it up. This is all really exciting because it opens a lot of doors for me."
With an eye on pharmaceuticals as a career field, Martin points out that science has been in his blood since early childhood.
"My dad found an old excerpt from a class I had in kindergarten or first grade and we had to answer the question: 'what do you want to be when you grow up?' And I had written down 'scientist,' " said Martin. "I have always enjoyed biology and the bio-science stuff."
As USM's second Hollings Scholar, Crater will receive $9,500/year over the next two years, as well as a paid summer internship at a NOAA lab next summer. Approximately 100 Hollings Scholars are chosen each year from more than 500 applicants. After working under Dr. Joseph Lott in her freshman year, Crater transitioned to the lab of polymer Professor Dr. Jason Azoulay. Recently named the Outstanding Sophomore in the College of Science and Technology, Crater says that a love for chemistry fuels her academic fire.
"I had an AP chemistry teacher in high school who absolutely made me adore chemistry and that's why I'm here," said Crater. "Since coming to USM I have fallen in love with polymer science, and I want to pursue a career in teaching and research. I hope to address things that I really care about such as environmental issues. I want to take a more chemical engineering approach to those types of issues."
Sandoz has also worked in Patton's lab since his freshman year. His research involves finding greener technology solutions. A consistent volunteer with the Mississippi Audubon Society, Sandoz has won numerous wildlife photography awards. Sandoz has one co-authored publication with two more in progress, and has presented his work at three conferences. He is the first USM student to be recognized by the Udall Foundation since 2011. The Udall Scholarship is open to sophomores and juniors who are interested in protecting the environment or Native Americans who are interested in tribal health care or tribal governance policy.
Both Sandoz and Crater are eligible to reapply for the prestigious Goldwater Scholarship next year as juniors.
Swilley, another researcher in Patton's lab, is set to enter the doctoral program at Virginia Tech University. She is eligible to apply again for the NSF Fellowship during graduate school. She is the co-author on two publications with another in progress and has presented research at six conferences, winning second place at the Waterborne Symposium and USM's Undergraduate Symposium.
Prine has been conducting research in the lab of Polymer Professor Dr. Robson F. Storey since his freshman year. Recently named Outstanding Senior in the College of Science and Technology, Prine has two co-authored publications and has presented research at six conferences. He plans to work in industry for a while before entering the graduate program at USM.
Since 2006 USM polymer students have accrued four Goldwater Scholarships and six Honorable Mentions, two Marshall Scholarship Finalists, three Phi Kappa Phi National Fellowships, a Hollings Scholarship, a Udall Scholarship Honorable Mention, a PD Soros Fellowship Finalist, a Gore Fellowship, an astounding 13 National Science Foundation Graduate Research Fellowships and an additional four Honorable Mentions.
For information about national scholarship and awards at Southern Miss, contact the Office of Undergraduate Scholarships at 601.266.4540 or visit: https://www.usm.edu/undergraduate-scholarships