USM Professors Research Could Lead to Increased Oil Production in Plants
Tue, 03/27/2018 - 10:29am | By: Van Arnold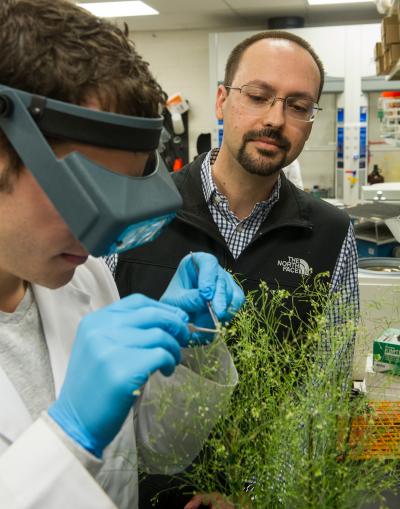 USM Professor Philip Bates observes as doctoral student David Sliman, from St. Martin, Miss., conducts plant research in Bates' lab. (Photo by Kelly Dunn)
With a mention of the word "engineering," one's thoughts might drift to images of bridges, roads, and railways under construction. At the University of Southern Mississippi, a unique and transformative type of engineering is making news – that of plants.
Dr. Philip Bates, assistant professor in the Department of Chemistry and Biochemistry, has taken his interest in lipids to a comprehensive level while researching the oil metabolism of certain plants.
"By understanding oil metabolism better, the information can be utilized to breed or engineer plants to accumulate more oils and/or oils with improved fatty acid compositions that could be more healthy for food oils, or have improved characteristics for use as petroleum replacements within the chemical and fuel industries," he said.
Supported by grants totaling approximately $1.5 million from the National Science Foundation and U.S. Department of Agriculture, Bates is charting new research pathways as the University's only researcher currently working in plant metabolism. He traces his appreciation for plant composition back to graduate school.
"Lipids are an essential part of all living cells as membrane lipids. They are substrates for hormones, and they are the most energy dense forms of carbon storage as oils," said Bates. "With modern genetic engineering techniques, it is theoretically possible to design plant oil compositions specific to our needs."
The sophisticated and intense research involves three different types of plants – Arabidopsis thaliana, Physaria fendleri, and tobacco. Each features characteristics conducive to oil metabolism study.
Arabidopsis thaliana: Bates labels it the model species of the plant world. "Like mice are for humans," he said. The plant also is closely related to the oilseed crop, canola. Bates and his team are using basic science in an effort "to discover how plants control the flux of fatty acids (which are also used to make essential cellular membrane lipids) into the storage lipid 'oil' which we humans use for food, cooking, and industry."
Physaria fendleri: This wild plant makes an unusual oil containing hydroxylated fatty acids. Hydroxylated fatty acids can be used by the chemical industry as lubricants, to make plastics, and a range of other products. The current sources of hydroxylated fatty acids are from castor beans which also make the very toxic protein ricin, and thus its growth of castor in the U.S. has been stopped. "By understanding how these plants make the oil, it will help with modern breeding and engineering efforts to further develop this plant into an alternative crop species to castor," he said.
Tobacco: Bates acknowledges that this popular cash crop naturally does not accumulate much oil. But the tobacco plants in his lab have been engineered to accumulate oil in the leaves. "Most oil plants accumulate oils in the seeds, but seeds represent only a small portion of the total yearly biomass," he said. "Therefore, you don't get much oil relative to how much the plant grows. However, if the plant is engineered to accumulate oil in all tissues, then you can harvest more oil per acre of land."
Bates notes that the grant funding has helped provide crucial resources -- supplies and salaries -- for four graduate students and two postdoctoral scholars. The funding will also support research opportunities for many undergraduates in the department. Over the past three years, Bates has mentored 12 undergraduate students and one high school student in his lab.
A native of Napa, Calif., Bates earned his undergraduate degree in biochemistry from the University of California at Davis (2002) and his doctorate in biochemistry from Michigan State University (2008). He conducted postdoctoral research at Washington State University (2008-2013) and joined the USM faculty in 2013.
To learn more about the Department of Chemistry and Biochemistry at USM, call 601.266.4701 or visit: https://www.usm.edu/chemistry-biochemistry