USM Provides Bookstore Merchandise Trailer for Outside Sales Venues
Fri, 09/28/2018 - 15:29pm | By: Van Arnold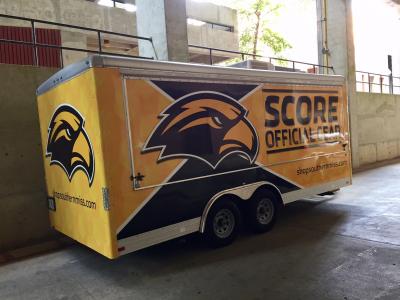 Barnes & Noble merchandise trailer
In an effort to better accommodate University of Southern Mississippi patrons, Barnes & Noble bookstore has purchased a merchandise trailer that will be fully stocked and positioned at various outside sales venues around the Hattiesburg campus.
Kathy Hayman, general manager of Barnes & Noble @ Southern Miss, notes that the trailer will be used primarily during athletic events. The new trailer has a large opening that allows customers to shop with a full view of merchandise.
"It is larger and more accessible to the customers," said Hayman. "We will sell items that are of interest and needs of our football attendees for this fall, and as we move the trailer to the baseball venue, we will sell Southern Miss baseball items. Also, as the weather dictates, we will sell items such as ponchos, sunscreen, blankets, hats, etc."
For home football games, the trailer will be parked inside M.M. Roberts Stadium on the west side near the University's new food truck and will be open as soon as the stadium's gates open.
"We believe that this new service will provide students, faculty, staff and all of our attendees of athletic events a better shopping experience," said Hayman.