USM Ranked Among Best for Veterans Nationwide; Tops in Mississippi
Tue, 10/23/2018 - 10:22am | By: Van Arnold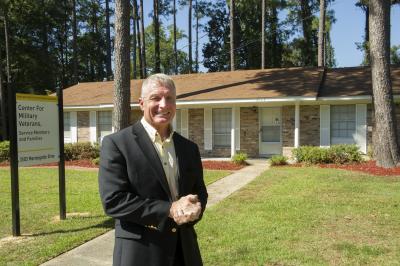 Maj. Gen. Jeff Hammond has served as director of USM's Center for Military Veterans, Service Members and Families since its inception in 2014.
The University of Southern Mississippi has received a No. 15 national ranking by Military Times in its Best for Vets: Colleges 2019 survey. No other Mississippi college or university is ranked among the top-100.
This marks the third consecutive year in which USM has been ranked nationally in the top-20 of all four-year colleges across the United States. Last year USM was ranked number 17. Rankings are based on the results of Military Times' annual survey – the most comprehensive school-by-school assessment of veteran and military student services and rates of academic achievement – as well as a detailed review of public data collected by federal agencies.
The honor reflects the continuation of the many achievements of the Southern Miss Center for Military Veterans, Service Members and Families. Foremost has been the concerted efforts in attracting, enrolling and caring for military students. Over the last five years the dual-campus program (both Hattiesburg and Long Beach) has gradually expanded its mission in offering "Military Friendly" education support programs.
In this regard, a total of 1,779 Military Students are currently enrolled at USM reflecting a consistent and continual increase since the program's inception in the fall semester of 2014.
"We appreciate the support of the local community, faculty and staff in making our university one of the top military caring institutions of higher learning across the United States," said Maj. Gen. (U.S. Army-Ret.) Jeff Hammond, who serves as the center's director. "Our Veterans are comfortable with our dual-campus settings but more important in being surrounded by faculty and staff who are genuinely interested in their academic and social interests. We love our students and strive each day to provide them the best in customer service and care."
According to USM student-veteran Chenoa Wilson, USM offers the perfect place for any veteran pursuing a degree.
"The folks at the Center for Military Veterans, Service Members and Families will do whatever is necessary to help all veterans succeed both in and outside the classroom," said Wilson
USM student-veteran Clayton Lizana agreed and noted: "If it wasn't for the caring attitude of the USM Veterans Center, campus faculty and staff, I would attend college elsewhere."
Best for Vets: Colleges is an editorially independent, objective and rigorous news project that evaluates the many factors that help make colleges and universities a good fit for service members, military veterans and their families. About 500 colleges took part in this year's survey and 208 of these institutions earned a national ranking.
To see the full list of Military Times rankings, visit: https://rebootcamp.militarytimes.com/news/education/2018/10/22/best-for-vets-colleges-the-best-schools-for-military-students-in-2019/
For more information about the Center for Military Veterans, Service Members and Families, call 601.264.4629 or visit: www.usm.edu/military-veterans