USMs Special Collections Offer Intriguing Look at States History
Mon, 08/27/2018 - 13:46pm | By: Van Arnold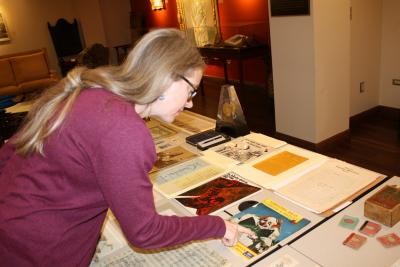 Jennifer Brannock, Curator of Rare Books and Mississippiana at USM's McCain Library & Archives, explains some of the unique items in the Special Collections area. (University Communications Photo by Van Arnold)
Imagine a treasure trove of artifacts so vast that you could not accurately pinpoint the exact number of items on hand. Such is the cavernous amount of historical memorabilia stored in the Special Collections wing of The University of Southern Mississippi's McCain Library & Archives.
From a hardcover copy of "Aesop's Fables" printed in 1530, to an original manuscript of "A Wrinkle in Time," to a campaign poster for then-presidential candidate Abraham Lincoln, USM's collection of historical material is uniquely special.
And just how many different items are cataloged in the University's Special Collections? "We have so many that there's no way that I could give you a number of items," said Jennifer Brannock, Curator of Rare Books and Mississippiana at USM. "We have millions of items in our manuscript collections and more than 200,000 books. It's truly impossible to say for sure exactly how many pieces we have in the collections."
Want to know what it felt like to serve as a Confederate soldier in the Civil War? Letters available in the Special Collections can take you back to that period.
Want to examine the original artwork for the popular "Curious George" books? Special Collections has it.
Want to hold a letterman's jacket from the 1954 USM football team? You can do so simply by asking.
Perhaps the most remarkable aspect of the Special Collections unit is not the priceless and timeless items on file, but the fact that more area residents are unfamiliar with its presence.
"USM Special Collections is well-known among scholars in the State of Mississippi and beyond," said Lorraine A. Stuart, Head of Special Collections. "Annually more than 1,600 researchers use the collections with many traveling from other states and countries. However, the general public in Hattiesburg is not always aware of the gems available in Special Collections. Reaching out to the local community is an ongoing mission."
The McCain Library & Archives is open Monday-Friday from 9 a.m. – 4 p.m. Visitors are welcome to peruse the assortment of artifacts upon request.
Dr. John Eye, Dean of Libraries at USM, points to Special Collections as an invaluable University resource providing a wealth of information and tangible treasure that reflects the culture and history of South Mississippi and USM. Students and faculty benefit from the collections as sources for their research and to support their curriculum.
But Eye notes that what stands out most to him is the collections' diversity. "We have a nationally recognized children's literature collection – the de Grummond – and a highly regarded Civil Rights collection," he said. "We have manuscripts of screenplays and television shows from David Sheffield, an alumnus who wrote for 'Saturday Night Live,' along with old USM yearbooks going back to 1914. Much of this material is one-of-a-kind; not available anywhere else."
The process of collecting such valuable material begins with generous donations. "We are very fortunate to have donors from all over the world that trust us to preserve the materials and the memories associated with their items," said Brannock. "Once we determine what will remain with us, we process the items according to standards set by the library and archival communities."
More than 24,000 square feet of storage space is devoted to the Special Collections. In an effort to preserve paper materials, the temperature is maintained at no higher than 70 degrees with a stable relative humidity between 30 and 50 percent.
In addition to direct artifacts, the University also receives monetary donations that are designated for use in purchasing materials to be included in Special Collections. Such as the $100,000 gift provided by the late Richard Peck for acquisitions to enter the de Grummond Collection.
"Although most material is donated, some items are purchased through endowment funds established for acquisitions," said Stuart. "It is not unusual to have faculty and community members purchase books and historic photographs for us. The support Special Collections receives comes from all levels, and all are extremely appreciated."
The array of eye-bulging memorabilia is practically endless. Among other exceptional items are:
Thousands of letters authored by former Mississippi Gov. Theodore G. Bilbo
A Catholic Church Indulgence from 1737 signed by Pope Clement XII.
A 16th Century antiphoner used in a Spanish monastery for their daily services. It is printed on vellum (calf skin) and contains illuminated letters.
A first-edition of William Faulkner's "The Marble Faun" (a collection of his poetry)
Original House Bill 204 which founded Mississippi Normal College in 1910.
In many instances one will discover significant collections within the Special Collections. And few are more outstanding than the Sam Woods Collection. Woods, who grew up in Purvis, Miss., served as head of the Department of Manual Arts at what was then State Teachers College (now USM). In addition to his military service in World War I, he engaged in an extensive career of various international services throughout his life, including assistant trade commissioner in Czechoslovakia; commercial attaché in Prague, Czechoslovakia, commercial attaché at large in Berlin, Germany; consul general in Switzerland and consul general with personal rank of minister in Germany.
The Sam Woods Rare Books Collection consists largely of books published before 1800, with principal concentration in religion, philosophy, classics, geography, and history. The collection also includes works of art, artifacts, and a variety of illuminated manuscripts and vellum documents. Highlights of the collection include a 1731 Hollman Atlas, and a rare copy of John Calvin's Commentaries on St. Paul's Letters from 1551.
Special Collections also offers an active learning component for students with a student curator program. In this program, three students are selected to curate mini-exhibits featuring materials from the library.
"They learn how to select items for display, install the materials, write label and exhibit text, and publicize the exhibit," said Brannock. "This is a great example of a program that we offer to provide hands-on experience to students who may be interested in working in archives, museums, or other cultural heritage institutions."
Special Collections at USM's McCain Library & Archives provides a rare and cost-free glimpse into the rich heritage of Mississippi. Just one look, and you will most likely be hooked.
For more information about Special Collections at USM, call 601.266.4345 or visit: http://www.lib.usm.edu/spcol/