USMs Student-Led Golden Baskets Project Supports Coastal Families
Mon, 11/19/2018 - 17:31pm | By: Jenny Tate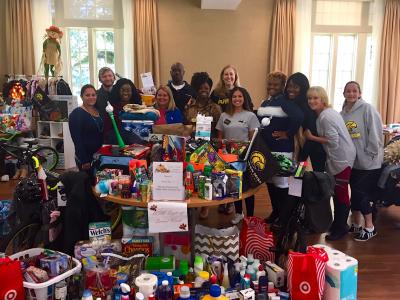 Students in the Bachelor of Social Work Club, based at the Gulf Park campus, are shown with some of the items donated as part of the Thanksgiving Golden Baskets project.
Students, faculty and staff from The University of Southern Mississippi (USM) Gulf Park campus in Long Beach are making the upcoming holiday season a little brighter for several local families.
On Friday, Nov. 16, the 2018 Thanksgiving Golden Baskets were presented to 58 individuals (19 adults and 39 children) across the Mississippi Gulf Coast.
The Thanksgiving Golden Basket project is an annual event coordinated by USM students in the Bachelor of Social Work (BSW) Club, which is based at the Gulf Park campus.
Golden Basket recipients are deemed to be among the least food secure by social workers at Head Start agencies and school districts in Hancock, Harrison and Jackson counties. Teams consisting of USM students, faculty and staff, and community members provide all of the items for a Thanksgiving dinner, as well as holiday presents and other essential items for their designated family, such as furniture, clothing, shoes and personal hygiene items.
"This has become a treasured Thanksgiving tradition for the USM Gulf Park campus. It allows us the opportunity as a faculty, staff and student body to work together to serve some of the neediest families on the Gulf Coast," said Karen Aderer, LCSW and Clinical Instructor in the School of Social Work and BSW Club advisor.
The project was conceptualized in 2011, when a student in the USM social work program working at a local Head Start agency saw a need to provide a Thanksgiving meal to a family who lacked food security. In 2012, Aderer formalized the project, leading each of the four cohorts of Social Work students – pre-social work, juniors, seniors and master's students, as well as the social work faculty – to each adopt a family.
"This year, we had families referred by some of our alumni who are now working in the public school systems as school social workers," said Aderer. "These same alumni participated in this project when they were students here, so this project has really come full circle."
Selected families may have transportation issues, or have experienced a recent adverse life event such as deportation of a parent, house fire, loss of job, or eviction.
The 2018 Golden Basket items were gathered and staged in the Hardy Hall Ballroom on the Gulf Park campus, where participating teams displayed their items prior to delivery. USM students and employees were able to view the collected items and place a vote for one participating team to win a People's Choice Award for their creativity, organization, and abundance of items.
Local community leaders served as celebrity judges for the event, selecting one participating team as the Judges' Choice winner for the event. Rob Stinson, chef, restauranteur, and host of Mississippi Public Broadcasting's Fit to Eat; CDR Ronald Jenkins, Executive Officer of the Naval Construction Battalion Center; Christy Pickering, Certified Public Accountant, motivational speaker and former trustee for the Mississippi State Institutions of Higher Learning; and Dr. John R. Kelly, Chief Administrative Officer for the City of Gulfport served as celebrity judges.
The 2018 Judges' Choice Award was presented to the Pre-social work cohort, led by students Kimberly Richmond and Marisa Vado, who collected donations and items in excess of $2,000 for a family of five. The 2018 People's Choice Award was presented to a team of USM Gulf Park staff members who provided clothing, food and baby items for a family of 10.
Aderer added, "It is a beautiful thing to witness the philanthropy, teamwork and cohesion of our USM Gulf Park family, and it has come to define Thanksgiving for many of us."