USMs Wilcox to Serve on Executive Committee of National Group
Thu, 11/01/2018 - 08:52am | By: Bailey Harris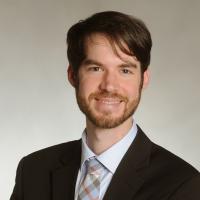 James Wilcox
James Wilcox, the Director of the Center for Economic and Entrepreneurship Education (CEEE) at The University of Southern Mississippi, has been elected by his peers to a three-year term (2019-2022) on the Executive Committee for the National Association of Economic Educators (NAEE).
NAEE is a nonprofit corporation developed to advance economic, financial, and entrepreneurial literacy by serving educators.
"James Wilcox provides transformative experiences in entrepreneurship and economic education for the youth and for educators in the state of Mississippi. It is very excited to see that he will now represent us at the NAEE," said Dr. Faye Gilbert, dean of the USM College of Business and Economic Development.
Wilcox has served as the Director of the CEEE since 2010 and joined the NAEE in 2011.
"I am very humbled to have been nominated and elected by my peers to represent our national network. It is such an honor to support NAEE's efforts and mission to advance economic and financial literacy by serving our country's educators," said Wilcox.