USM School of Marketing Focuses on Client-Based Curriculum for Students
Wed, 12/19/2018 - 15:21pm | By: Bailey Harris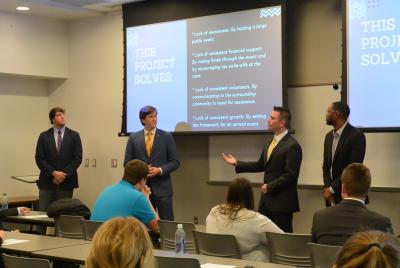 Marketing students at The University of Southern Mississippi are given an opportunity to interact with alumni and local business owners as part of the curriculum.
The School of Marketing, housed in The University of Southern Mississippi's College of Business and Economic Development, strives to incorporate client-based projects into its curriculum.
Many 300 and 400 level courses have partnered with alumni and other business owners, enabling students to use the skills that they have learned over the course of their college career, putting them into action to solve real problems that organizations face.
This type of project provides the students with (1) a networking opportunity and (2) hands-on experience in developing and presenting strategic plans, better preparing them for their future careers.
During the Fall 2018 semester, Dr. Joanne Cao's Integrated Marketing Communications class has taken on three clients in an effort to deliver innovative solutions to marketing and communication problems. Fourth Street CrossFit, two of the three owners being Southern Miss alumni Heather Graham and Daryl Bosarge, Petal Excel by 5, alumnus Nadine Coleman being a board member for the organization, and Boys and Girls Country of Houston were the clients the students worked with this semester.
The Boys and Girls Country of Houston is a nonprofit organization licensed by the state of Texas as a residential home. Boys and Girls Country addresses a child's well-being, helping to break the cycle of poverty for children by providing a secure, stable, Christian home environment with an emphasis on education, building healthy relationships, and setting goals for the future. They do this with broad-based financial support and hundreds of volunteers.
Charles "Chuck" Scianna, a member of the Board of Directors for Boys and Girls Country, connected the school with the organization. Scianna is an alumnus of Southern Miss, The College of Business and Economic Development 2018 Entrepreneur of the Year, and the namesake for the College of Business and Economic Development building, Scianna Hall.
Sasha Smith, Communications and Marketing Manager, represented the Boys and Girls Country of Houston during the presentation as students pitched ideas to increase brand awareness, financial support, and volunteers.
Boys and Girls Country of Houston has also partnered with Dr. Gallayanee Yaoyuneyong's Apparel Product Development course to develop welcome packages for a new monthly donation campaign and her Digital Media Merchandising course to work on their website, blog, and other digital presence. In addition, they plan to partner with Dr. Holly Syrdal's Social Media Marketing and Merchandising course in the spring.
Other clients that the School of Marketing faculty and students partnered with this semester included Randy Price and Company, The DREAM of Hattiesburg, K Pavoloni & Company, Courtyard by Marriott, Hattiesburg Clinic, Reach Unlimited, Dance 4 Life Academy, Trupanion Pet Insurance, Eagle Maker Hub, and more!
In addition to client-based projects, the School of Marketing has had more than 40 guest speakers and community interactions with their students this semester alone. To learn more about the College of Business and Economic Development hosting business professionals, please see http://news.usm.edu/article/business-professionals-share-experience-insights-usm-students.