USM Social Work Students Register 420 Voters Across 27 Counties
Fri, 11/02/2018 - 13:32pm | By: Geoff LoCicero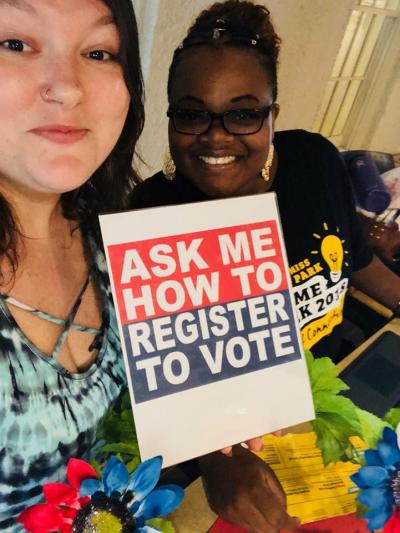 Social work students USM School of Social Work students Alex Proulx, left, and LaKeitha Luster at a voter registration event on the Gulf Park campus.
Social work students at The University of Southern Mississippi registered 420 new voters during a class project/promotional blitz, but it was clearly more special to a handful of those newly enfranchised citizens.
"What was most surprising was how every student who registered voters had a story about a person who, because of an arrest or prison time, thought they could not vote," says Karen Aderer, a lecturer with the School of Social Work on the Gulf Park campus in Long Beach. "All our students were given a list of disenfranchising crimes they could show to possible registrants. Some people who thought they could not vote literally cried when they found out that they still had that right.
"To me that was incredibly eye-opening."
A $2,500 grant from the Forward Mississippi Fund of the Community Foundation for Mississippi allowed 32 seniors in two human rights classes – one at Gulf Park and one in Hattiesburg – to split into seven teams and use their creativity to plan where to go and what to do to solicit new registrants in a nonpartisan fashion.
In early September, students created their own groups – at Gulf Park, they decided to have three groups instead of four to get a bigger split of the allotted $1,000 per class – and then quickly went into action across the state to beat the Oct. 9 registration deadline. By the time they were done, they had managed to register citizens in 27 of Mississippi's 82 counties.
"That was the other thing I found mind-blowing and something that really makes the case for how a project that attempts to reach a large part of the state is perfect for a group of university students," Aderer says. "Our students come from so many different counties and have friends and family in those counties. Students went home for the weekend and while they were visiting, they registered people. Twenty-seven counties was really stunning to me."
Football's a Winner, but so is Learning Door to Door
Joseph Miller, from Gulfport, says his Gulf Park group targeted nursing homes and lower socio-economic areas because Aderer challenged students to reach more marginalized populations. But they found their most success in setting up a tent on consecutive Saturdays at the Orange Grove football league field. In total, they registered about 50 people.
"That's how we got the most, at the games," he says. "We had drinks and ice to hand out to everyone, but you didn't have to register to get the Gatorade. But going door to door was a much better learning experience. It was time-consuming, but it was more of a 'social work kind of thing.' We got the most out of doing that, interacting with the public. We were able to use communication skills we are taught when knocking on a stranger's door who is not expecting you."
Laying the Groundwork for Policy Change
Classmate Shelmon Moore's group got permission to set up a table inside Planet Fitness and several nursing homes in Gulfport, went door-to-door at businesses such as barbershops, grocery stores and cell phone vendors, and ultimately found their most success at residences in the North Gulfport community. Moore, also from Gulfport, says the group was successful in signing up roughly 75 percent of their 100 registrants in the community.
"The whole process was very inspirational," she says. "Social workers are involved in policy and making and changing policies for people. If we can reach the government at the top level, it can change everything underneath it. Social workers are on the ground and hearing the needs of the people. Social workers are the voice of the people."
'Maybe I Want to Register and Vote'
In Hattiesburg, Stephanie Collum and a classmate set up tables at two on-campus residence halls while two group members traveled south to register students at Gulfport High School. The divide-and-conquer approach paid dividends with 77 registrations, the most in their class.
Like Moore, she relished the advocacy role. "I would have to say that social workers like to change things and love advocating for people," says Collum, who is from Yazoo City. "What better way to help people understand how to advocate for themselves? Get them to vote. Try to teach them about subjects that are important to them. Then they say, 'Maybe I do want to get out and register and vote on this.' "
Keeping it Simple: Pizza
Anthony Cefalu, an Army veteran from Picayune, was part of a Hattiesburg group that went all in for a one-day registration event at the Hattiesburg campus' Thad Cochran Center, a building that gets high traffic from students. They enticed students with plenty of free pizza and a drawing for four gifts cards.
"We came up with a simple concept: We're on a college campus … do it local, stay right here on campus," he says. "What is the one thing college students love? Food. We had a big push for one day," and registered more than 50.
His group will use the contact information they gathered for the drawing and call or email to encourage their registrants to vote on Nov. 6, and follow up afterward to see if they did – something all groups were tasked to do.
Overcoming Nerves, Creating a New Culture
Nyshetia White-Chapman, a first-year visiting instructor on the Hattiesburg campus, wasn't sure what to expect from students who were initially unnerved by the project, but she came away proud of their resolve.
"I had no clue," she says. "When you put things in the hands of students, you don't know exactly what they will do. They had a lot of anxiety about the project because they had never done anything like that before. There was a lot of trepidation on their behalf, being afraid to do this, 'how do we approach people,' and feeling like people would reject them and shut them down. So they were really nervous.
"I was impressed by their willingness to jump in, never having had any experience. I hope if fosters a culture to do more voter registration drives. It's important to make ourselves more visible as a discipline, not only being involved on an individual level but also on a macro level in impacting change. Social work is a force to be reckoned with on that front, but I feel like we don't fully tap into that power."
A Two-Party System to Celebrate
For Aderer, there were interesting takeaways, some positive, some negative. She says students initially shied away from approaching people who were well-dressed, assuming they would already be registered. But they recognized this behavior and corrected it. "That's people learning to check their own bias, which is a huge part of what we do in social work education," she says.
Many people turned down registering because they didn't think their votes matter or because they did not want to be called for jury duty or could not afford serving and losing wages from missed work, she says. "That is a disheartening thing. We need to have juries that are representative. If you are a person of color or a person who lives in poverty, your hope is to go before a jury that is somehow representative so that you have some members in the jury who can understand your viewpoint."
Each class will split the remaining $500 to hold celebration parties on Election Day at their respective campuses.
"I think the money that was given to us from this grant had a huge ripple effect beyond the somewhat small amount of money given," Aderer says. "Not only did we register 420 people, we got students involved in the political process, we taught students how important the right to vote is, and we are having parties to create a culture on campus that values voting. For the original $2,500, I think the impact of those funds has been absolutely incredible."
--
Where They Registered
• USM residence halls and common areas
• Junior Colleges
• Gulfport High School
• Oak Grove High School
• Low-income neighborhoods
• Plant Fitness, Gulfport
• Nursing homes
• Youth football games
• Barber shops
• Nail and hair salons
• Shopping courts
• Carwash
• Cruisin' the Coast
• 2-2-7 Place family shelter, Hattiesburg
• Planet Fitness, Gulfport
Disenfranchising Crimes in Mississippi
1. Arson
2. Armed Robbery
3. Bigamy
4. Bribery
5. Embezzlement
6. Extortion
7. Felony Bad Check
8. Felony Shoplifting
9. Forgery
10. Larceny
11. Murder
12. Obtaining Money or Goods under False Pretenses
13. Perjury
14. Rape
15. Receiving Stolen Property
16. Robbery
17. Theft
18. Timber Larceny
19. Unlawful Taking of Motor Vehicle
20. Statutory Rape
21. Carjacking
22. Larceny Under Lease or Rental Agreement
Source: Mississippi Office of the Attorney General opinion, July 9, 2009; via the Mississippi Secretary of State's Office
--
Learn more about the USM School of Social Work.