USM Speech-Language Instructor Chosen as Accreditation Site Visitor
Fri, 08/10/2018 - 13:54pm | By: Van Arnold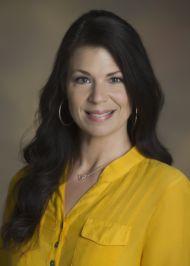 Amy Rosonet-Lebert
Amy Rosonet-Lebert, clinical instructor in the School of Speech & Hearing Sciences at The University of Southern Mississippi, has been selected as a Council on Academic Accreditation (CAA) site visitor for the American Speech-Language-Hearing Association (ASHA).
Rosonet-Lebert, who serves as the director of USM's Speech Pathology Clinic, is one of three certified CAA site visitors in Mississippi from the approximately 126 across the United States. Her appointment is for four years.
Each CAA site visitor is required to participate in two academic site visits per academic year. A site visitor team comprised of 4-5 site visitors is responsible for conducting a rigorous review process of speech-language pathology graduate programs applying for accreditation or re-accreditation.
Chief among the duties are: review the program's completed application; review the application documents regarding how each accreditation standard is being met; review the CAA's initial observations; review the university and program's website, review all program syllabi and corresponding documentation. All of this takes place before the physical visit.
"The actual on-campus review visit covers two days and consists of interviews with the faculty, students, administration and public," said Rosonet-Lebert. "We also make sure all documentation is available for viewing and verification during the visit. After the visit, the team creates a detailed report of all the information gathered and gives it to the CAA. The CAA then makes the decision regarding status of accreditation based on the information gathered by the site visitor team."
Rosonet-Lebert, who has served on the USM faculty since 2008, emphasizes that the accreditation standards are quite extensive and tedious. And the responsibility of a CAA site visitor is no less demanding. Ultimately, the accreditation standards address compliance in seven essential components:
Administrative structure and governance
Faculty
Curriculum for audiology programs
Curriculum for speech-language programs
Students
Assessment;
Program resources
Site visitors must verify that each component is in compliance.
There are almost 300 accredited speech-language pathology graduate programs in the United States, including USM's renowned program. These programs undergo the accreditation process every eight years.