USM Symphony Presents Annual Themis Award to Rolison
Mon, 11/26/2018 - 15:46pm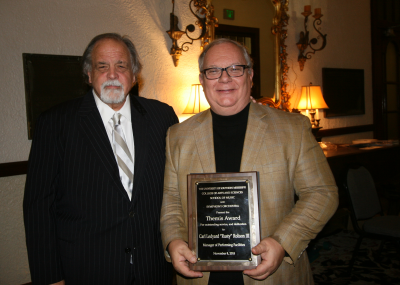 Dr. Jay Dean, left, longtime director of the USM Symphony Orchestra, presented the Themis Award to University Event Planner Carl Ledyard "Rusty" Rolison.
The University of Southern Mississippi Symphony presented its 2018-19 Themis Award to University Event Planner Carl Ledyard "Rusty" Rolison University during a special ceremony held earlier this month.
The award is presented annually to an outstanding USM administrator, professor, staff member, or other individual who has contributed to the success of this orchestra and its members.
As Event Planner, Rolison is responsible for all University events and for all entertainment functions of the president's office. He assists the University with all official functions and is a liaison with entities throughout the campus. Rolison also serves as the Assistant to the Dean of the College of Arts and Sciences for Event Management. He works with that office on various functions and events presented by the college, as well as the many schools and programs comprising the college.
"Rusty is the 'go-to person' for most anything you might need on campus - from who do I talk to, or how do I do it, he is the man. Most of us think of Rusty that way," said Dr. Mike Lopinto, Assistant to the Dean for Arts PR and Marketing.
The award is named after Themis the Greek goddess of divine law and order; she was the Titan who assured that things were done in an honorable way. She presided over the most ancient oracles, and first instructed mankind in the laws of justice, morality, and good governance. She was the first counselor to Zeus, sat enthroned beside him, and advised him on the precepts of divine law and the rules of fate. She is the personification of the order of things established by divine law, custom, oracle, equity, and divine decree.
Rolison is a native of Butler, Ala. He received his high school diploma from Choctaw County High School where he was most active in the arts, participating in marching and concert bands and community theatre. He attended Livingston University, now University of West Alabama, and graduated with a degree in business administration and art. During his time in college, Rolison completed his degree with a scholarship as the yearbook editor.
Upon graduation, he began his career with The Meridian Star in Meridian. Following The Meridian Star, he worked with the J. C. Penney Company as a Visual and Advertising Supervisor. This opportunity took him on many different paths. He was invited to be on the opening visual teams for many new Penney stores in the southeastern United States, and his work was featured in national corporate planning guide.
He then worked with WTOK-TV in Meridian, as a Creative Consultant where he produced, wrote, designed, and supervised television commercials for local, regional and state clients. At WTOK, he became the Station Promotion Director.
Rolison began his affiliations with the USM Symphony Orchestra in 2001, overseeing promotion and public relations. He then became a member of the College of the Arts Dean's Office staff and the manager of the Mannoni Performing Arts Center and Bennett Auditorium.
"Since his arrival, he has been a very important part of everything that this orchestra has done on this campus," said Lopinto.