USM Three-Minute Thesis Competition Highlights Outstanding Research
Mon, 11/12/2018 - 10:20am | By: Van Arnold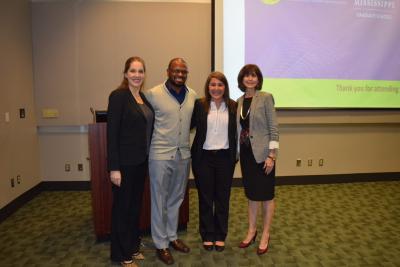 Ashleigh Bristol, second from right, took the Grand Champion award in USM's annual Three-Minute Thesis competition held last week. Pictured with her are Dr. Karen Coats, far right, dean of USM's Graduate School; Arien Faucett, far left, who captured the People's Choice Award, and Raymond Jones, who finished as runner-up in the competition.
Ashleigh Bristol, a doctoral student in polymer science and engineering, captured the Grand Champion award in the University of Southern Mississippi's annual Three-Minute Thesis (3MT) competition held last week on the Hattiesburg campus.
The competition invites graduate students to describe the significance of their thesis or dissertation to a general audience in three minutes or less.
Bristol, a native of D'Iberville, Miss., collected the $1,000 prize money and now advances to the Conference of Southern Graduate Schools regional Three-Minute Thesis competition on Feb. 14-16, 2019 in Knoxville, Tenn. Her research involves the development of polymers to mask a gluten peptide that contributes to celiac disease.
Second-place went to Raymond Jones, a doctoral student in kinesiology (Exercise Physiology). A native of Patterson, La., is studying the impact of sedentary behavior (too much sitting) on cardiovascular health.
Arien Faucett, a doctoral student in kinesiology (Sport Pedagogy), captured the People's Choice award. Faucett, a native of Pascagoula, Miss., is researching the impact of coaching behaviors on players' moral and ethical development
Dr. Karen Coats, dean of USM's Graduate School, notes that preparing for the prestigious competition requires diligence and attention to details for the participants.
"They are all very enthusiastic about their projects, used to discussing their research with their peers and professors in the field, and very familiar with their methods, so selectively choosing those key elements that capture value of the research and describing them in a way that engages a non-expert audience is very tough," said Coats. "They also have to design a PowerPoint slide that illustrates the essence of the research and enhances the presentation without begin overly technical. That takes some creativity.
Added Coats: "Once they've developed a script they have to practice, practice, practice to make sure they are clear, concise, and captivating while staying under the three- minute time limit. It takes passion for the work, a desire to communicate it broadly, and the guts to stand before a panel of judges and a general audience and perform."
The competition was open to any active master's, specialist or doctoral student who had not graduated prior to Fall 2018. Students compete in one of the following four categories: 1) arts and humanities; 2) life, health and environmental sciences; 3) physical sciences and mathematics; 4) social and educational sciences and business.
Participants are required to follow a spoken word format (no poems, raps, or songs permitted). A single static PowerPoint slide was permitted, but no additional electronic media or props were allowed.
Coats emphasized that the highly successful competition would not be possible without the support from faculty, staff, administrators, and community leaders who took time out of their schedules to judge the competition.
"Their assistance was a vital part of the success of this competition," said Coats. "I am especially appreciative of Provost Steven Moser and Vice President for Research Gordon Cannon who funded the competition. Without their financial support, the generous prizes that incentivize participation would not be possible."
To learn more about the Southern Miss Graduate School and the Three Minute Thesis competition, call 601.266.4369 or visit: http://www.usm.edu/graduate-school